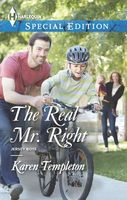 Series:
Jersey Boys
(Book 1)
Is an old crush the new beginning this single mom has been searching for?
Finding refuge from her ex-husband at her friend's house was her best option, Kelly McNeil thought--until Matt Noble answered the door. She'd had a huge, unrequited crush on him as a teenager But as adults, he'd never even given her a second look. Then she got married and left town and, well, now here they are again....
Matt had never mustered up the courage to ask Kelly out, and now fate has literally knocked on his door and given him a second chance. But Kelly is afraid to risk her independence and her children with a man who could only hurt them again. He'll have to prove that he's worth the risk--and that he's the Mr. Right she can truly depend on. Forever.
Very good book. I love a story that can make me laugh and cry. Kelly's search for a safe place brought her to the home of her best friend's family. She didn't expect to see Bree's brother Matt, who she'd had a huge crush on as a teenager. Unknown to her, Matt had also had a crush on her, but had never had the courage to do anything about it. Now he's got a second chance, but both of them are wary of risking their hearts again.
Kelly's marriage had started out well, but things changed and when her ex-husband couldn't accept that the marriage was over she knew she had to get herself and her kids away. Seeing Matt again has brought those old feelings back to the surface. She has no desire to get involved with another man. She has finally gotten to the point where she is comfortable with her ability to take care of her family without depending on anyone else. She can see losing herself in a relationship with him, coming to depend on him and then losing it all again if he leaves. But she can't resist his friendship, and the kindness he shows her children. There was a lot that Kelly was dealing with. She had to provide a stable home for her children who had been through so many changes in the last couple years. Her son was especially in need of the extra attention. Matt's presence was good for him, but she worried about them becoming dependent on him. Her own heart wanted him in her life, but she was afraid to trust him so she kept a certain amount of distance between them. I loved seeing how a talk with her son about his fears opened her eyes to what she was doing to them both.
Matt is still recovering from his divorce when Kelly reappears in his life. He is the kind of guy who lives for taking care of people, but his ex accused him of smothering her. Matt really wants to help Kelly and her kids, but her insistence on keeping total independence keeps him at a distance. I loved the way that he slowly got involved in her life by trying to keep things at the friend level. One of the things I loved best about him was seeing how good he was with her kids. He was able to be a friend and role model for her son. There was a really sweet scene where he and Cooper had a man-to-man talk about Kelly that really showed what a terrific guy he really was. His feelings for Kelly got to be so strong that he couldn't resist her any longer. But he too had trust issues, for a long time feeling that the only person he could depend on was himself. That by protecting others he was also protecting himself. He had to give himself permission to let Kelly get close to him.
I loved the realistic characterizations in this book. Besides the portrayals of Matt and Kelly, I really liked Kelly's son Cooper. He had the kind of attitude that could be seen in almost any intelligent eight year old. He had moments when he'd talk back, but also times when he was incredibly sweet to his mom and little sister. I also really enjoyed Kelly's mother-in-law and the way she was so supportive of Kelly. Completely loved the push she gave Kelly that got her closer to Matt, and then the scolding she gave Matt when he appeared to have given up was priceless.