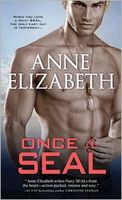 Series:
West Coast Navy SEALs
(Book 2)
A Hero of Her Own
What woman hasn't dreamed of what it would be like to marry a Navy SEAL? Dan McCullum is everything Aria has ever imagined--sweet, strong, and sexy as hell. She just never expected how tough the SEAL life would be. Dan could be gone at a moment's notice and not allowed to tell her where he's going or when he'll be back.
Dan has never backed down from a challenge in his life. But this one is his hardest yet. How does he balance his duty to his country with a soul-deep love for Aria? It's going to require patience, ingenuity, and some of the hottest homecomings he can dream up. Because for him, this isn't a fling: this is forever...
Good book with the bulk of the story happening after the wedding. Aria and Dan met and married after only four weeks. Their love was strong but both had some major adjustments to make. When Dan was nearly late for their wedding because he'd been off on a mission Aria wondered if their whole marriage would be like that. Dan loves Aria's strength and independence and expects that she'll have no trouble adjusting to life as a military life. Both have some issues from their pasts that affect the way they live their lives.
I liked both Dan and Aria, but I did have a few issues with them. Dan is basically a great guy. He has that whole strong and sexy thing going on. He adores Aria. He admires her independence. The problem I had with him was that during the time he was dating Aria he never bothered to introduce her to his friends' wives and girlfriends. This would have made her adjustment to military life easier, as they would have been able to clue her in about some of the challenges. Instead, he cuts their honeymoon short to take care of the various tasks of getting her set up as his wife, without actually explaining anything to her in the process. He commits her to a wives' get together and gives her only a few minutes warning. On the plus side, he supports her completely when she has to take custody of her teenage brother and is an excellent role model for said brother. He calls on his teammates to help move their furniture while she's sleeping. And when he has to leave on another mission he asks them to watch over her to protect her from a stalker. His life as a child had been one of danger because of his father so his life as a SEAL is a comfortable fit. It had also caused him to leave his family, except for his sister, behind making him long for a real family of his own. I loved seeing him accept the changes he needed to make and his determination to make their marriage strong.
Aria has had to be strong for most of her life. Her parents died when she was nine and her brother was a baby. They were raised by their bachelor uncle, but from the beginning Aria was the one caring for them both. When she was ready to go away to college she left her brother and uncle to take care of each other, then after graduation moved to California where she met Dan. Their connection was immediate and she happily said yes to his proposal. The opening scenes of the book, with his delayed arrival for their wedding, make her realize that she may have been a little unrealistic in her expectations for their life together. Because of that past with her uncle and brother, she does have some control issues, and we see her start things off by keeping her fears and questions to herself. I give her great credit for not hitting Dan with a frying pan when he pulled that wives get together fiasco on her. I have to say that I loved her steel backbone when she was confronted by that group. I also liked the fact that she quickly realized that the only way to survive her marriage was to make sure that she and Dan actually talked to each other. She applied the same principle to her brother when he came to live with them and it made a huge difference. I loved the scene when the wives of Dan's teammates invited her over, and what a huge difference it was from the other group. It was wonderful to see how quickly they made her welcome and filled her in on the things she needed to know. That kind of relationship was what she needed to help make her marriage to Dan strong enough to last.
Because the author is a military wife herself, what she has written is very realistic. She shows the good and the bad of living as a military family. I loved the glimpses of Dan's missions as they showed what his job is like, though there have been other SEAL books that do that also. What I really enjoyed was the good look at what it is like for the family back home. She showed everything from the needing of your ID card for everything, to being the one responsible for everything at home because the military member is gone. She said it perfectly here: "Being a military spouse isn't for everyone. It takes a daily dedication to the person you love and a commitment to stick it out and stay the course. But it is never easy. Most of us celebrate what we have when it is in our hands and stay the course -- hold the rudder -- when we're going it alone. Being happy or not being happy -- that's a choice that you make on a moment by moment basis. Decide what you want and go for it, but don't let your fear of being alone take away love. Remember, we're all here because we want to be."
The stalker storyline added a bit of suspense to the story. The identity was obvious from the beginning, so I'm not giving anything away by saying that I found Aria's "best friend" Mark creepy from the start. The more we learned about him the worse it was, especially when it came to her brother. I give Dan great credit for not killing him! I'm looking forward to the next book.