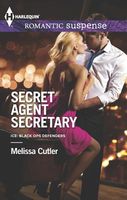 Series:
ICE: Black Ops Defenders
(Book 2)
Bullets whizzed past as Ryan Reitano and Avery Meadows escaped into the night. How could Ryan have suspected Avery of being the mole inside ICE? It was true she was no ordinary secretary. The way she used her wits and her lethal stiletto heels against the gunmen pursuing them astonished the jaded agent. And that killer body he'd somehow never noticed before...
Too bad there wasn't time to explore the possibilities. With Chiara's men hot on their trail, capturing the mercenary was more than just a mission for Ryan. He had his own reasons for wanting the criminal dead. But with his surprising--and utterly enchanting--new partner, perhaps there'd be a chance for romance later...if they survived.
Wow. Action packed from the beginning, I couldn't read fast enough to keep up with the action. At the end of
Tempted Into Danger
, the ICE team had broken up because of the betrayal of one of the members of the team. However, Ryan is still determined to stop the third Chiara brother. He has gone undercover at the San Diego office because Chiara is expected to attempt to steal some jewels that will be on display there. While doing surveillance on New Year's Eve, he needs a file from his computer and calls Avery, the office secretary to email it to him. When she can't get in his computer or find the hard copy, she heads to his location to tell him what's in the file. She has a photographic memory and can use it to help him. When she gets there all hell breaks loose and she and Ryan are on the run trying to escape from Chiara's men. As a wanna be secret agent, Avery gets the chance to help Ryan nab Chiara while indulging her fantasy. It doesn't hurt that Ryan is pretty fantasy worthy himself.
I loved both Ryan and Avery. Avery has been working as a secretary for ICE for six years. She has been fascinated by anything "secret agent" all of her life, in spite of being raised by pacifist parents. She has also had a major crush on Ryan since he came to work for them. When she can't find the file he needs she takes her photographic memory to him to give him the information he needs. When they are attacked, Avery finds herself in the middle of some intense action. At that point her truly amazing personality comes roaring to the surface. I loved the way that she didn't freak out but stepped up to help Ryan as best she could. Her quick thinking with her shoes and some paper clips get them out of immediate danger. Working with Ryan to stop Chiara is a dream come true for Avery. It gives her a great taste of the operations side of things and makes her realize that she really wants to be able to make a difference. Avery's abilities mesh well with Ryan's. She had a great way of really surprising Ryan with just what she could do. It was so much fun seeing her blow him away with the way she took to using his "gadgets" and his reaction to her car was priceless. I also loved the chemistry between Avery and Ryan. The scene in his "secret lair" was really hot.
Ryan was an awesome hero. He is undercover at the ICE office because he suspects there is a mole there. When Avery first appears at the hotel during his surveillance he wonders if it could be her. It doesn't take him long to decide that she's not as she and her high heels help get them out of trouble. He has been so focused on his mission that he had never really paid much attention to her, but he's looking now. He's fascinated by her combination of innocence and kick-ass attitude. He is constantly surprised by her quick thinking and willingness to take action. After all the time he's spent dealing with violence and betrayal, he's not quite sure what to do with Avery. I loved seeing the way that she broke down some of his barriers, changing him from the brooding loner that he was to someone open to possibilities. I loved Ryan's confidence in himself and his abilities. He always seemed to know just what needed to be done. He wanted to protect Avery but he also admitted that her assistance was crucial to catching the bad guy. It was fun seeing Ryan get so involved with Avery and start thinking of ways that they can be together, especially when it came to their bucket lists.
The entire suspense portion of the book was awesome from start to finish. From the first attack at the hotel to the final showdown the action was nonstop, with car chases, explosions, and shootings. The identity of the mole wasn't obvious and there were some pretty good twists and turns as Ryan and Avery have to stay ahead him. There was a very interesting plot twist that showed why it was so important to Ryan that Chiara be stopped. The final showdown was fantastic. I hope we get to see some of Ryan and Avery in future books, as I'd like to see how things work out for them.