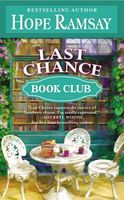 Series:
Last Chance
(Book 5)
After a painful divorce, Savannah White wants nothing more than to find her happy place. So when she gets the chance to pack up her life -and her son - and move to the idyllic town where she spent childhood summers, she jumps at the opportunity. Last Chance is just as charming as she remembered. She's even invited to join the local book club, where talk soon turns to Savannah's plan to bring the ramshackle downtown movie theater back to life. A new challenge is just what Savannah needs to move forward.. . .
Dash Randall wants to put his fortune to good use, but he remembers Savannah as the bratty "princess" who descended upon him each June, causing no end of trouble. But the teenager he remembered has grown into a gorgeous and generous woman, and it isn't long before Dash finds himself wanting to make brand new memories with Savannah. But first, Dash and Savannah will need to make peace with their pasts to find a new chance for love.
This was a lovely return to the town of Last Chance, South Carolina. Savannah really wanted to get herself and her son out of Baltimore, so when her uncle died she and Todd left to go to his funeral. What she didn't tell anyone was that they were going to move there permanently. Both Savannah's mother and ex-mother-in-law were very controlling and she has had enough. She also wants to get Todd into a healthier atmosphere. Savannah is planning to renovate the old theater that she inherited. She doesn't expect to run into her old childhood nemesis Dash. The two of them had never gotten along, but now he's living with her aunt also. They start out with sparks still flying between them, but now there's a different kind of heat in those sparks. Savannah is very independent and very stubborn. When Dash offers to help her out with the theater she resists. One thing she can't resist is the interest he takes in her son. Dash becomes just the role model and father figure that Todd needs. I really enjoyed seeing Savannah take more control of her life once she got to Last Chance. She had really let her mom and ex-in-law get to her before, but she develops a good amount of self-confidence once on her own. I liked the slow building of the romantic relationship between Savannah and Dash. The more time she spends with Dash the more she starts to feel for him. Just as their relationship starts to take off her new life in Last Chance is threatened.
Dash came back to Last Chance after his baseball career ended. He had partied too hard, gotten drunk too often, and messed up his knee in an accident. He has finally gotten sober and is now heavily involved in life in Last Chance, owning a business and doing a lot of volunteer work. Ever since he was a teenager he has been in love with Hettie, who had a brief teenage thing with him then moved on. Now he has a tendency to moon over her and do things he thinks she'd like. He's really not happy to see Savannah move back to Last Chance. He remembers her as a spoiled brat who was constantly getting him into trouble. It doesn't take too long for him to realize that she has changed and for attraction to start him taking a new look at his life. At first he doesn't really want to help Savannah with the theater but he eventually wants to give her a chance to follow her dream. He also realizes, being a few years older now, that his problem with her had been plain old jealousy of having to share his aunt and uncle with her. I loved seeing him let go of his obsession with Hettie and pursue his attraction to Savannah. It was interesting seeing him compare her to an addiction and try to fight it. Another thing I liked was seeing the changes he goes through as he helps Todd settle in at Last Chance. I loved seeing the way that his feelings for Savannah change and grow. His desire to help her is something new for him and I loved the way it made him feel. His feelings for her really came out at the end when he was there for her and Todd.
I loved seeing more of the characters from previous Last Chance books. Savannah's aunt is the matchmaker that has been so important in earlier books. In this one we get to see more of her and learn about her methods. She also has quite an interesting plan for Savannah. Hettie, "The Queen Bee" has an important role in this book and has an interesting twist come her way at the end.
As usual there are some pretty funny moments in this book that can shed some light on various characters. In this one, the dinner that included the minister, Aunt Miriam, Dash, Savannah and Todd turned out to be pretty funny. Todd was great as the rebellious teenager and gave Dash one of his early chances to influence Todd's behavior. I loved seeing Dash be semi-parental, but he also showed his fun and empathetic side.
The havoc created by Todd's dog at the frog jumping contest was great too. Besides the confusion we also got a more up close look at Savannah's mom and ex-in-law who showed up unexpectedly. This gave Savannah a chance to show her newly developed backbone. I loved seeing her tell them off, though there was also some indication that there could be trouble ahead.