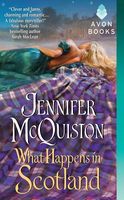 Series:
What Happens in Scotland
(Book 1)
She Woke Up Married
When Lady Georgette Thorold awoke she saw . . . her corset hanging from the armoire . . . a very handsome, very naked Scotsman lying beside her . . . and a wedding ring on her finger!
Before the attractive stranger can tell her his name, Georgette does the only sensible thing -- she runs for it.
Little does she know, James MacKenzie isn't clear on what happened the night before either. All he knows is that his money is missing and the stunning woman who just ran from the room is either his wife or a thief . . . or possibly both.
What happens in Scotland when two complete strangers fall madly, deeply in love?
Very fun book. Georgette has been a widow for two years. Her marriage was an unhappy one and she has no intention of marrying again. She plans to enjoy her freedom and has come to Scotland to visit her cousin. Unfortunately, he is trying to coerce her into marrying him and she runs from him. The next morning she wakes up naked, in bed with a man she doesn't know, with a ring on her finger and no idea how she got there. Horrified, she runs away before getting the man's name. Then she realizes that she needs to find out who he is so they can annul the marriage. In the first part of the book she and her new prostitute turned lady's maid, try to track him down. At first Georgette fears she married some crazy rake, but as the day goes on learns more about him, discovering that he's a local solicitor and son of an earl. This makes her feel a little better, until she finds him and discovers he thinks she's a thief.
Meanwhile, James had been having dinner at the tavern when Georgette appeared, obviously drunk, and in need of assistance to escape a forced marriage. He had been doing some drinking himself and now has only vague memories of the night before, especially after she hit him in the head with a chamber pot. He does know that his money is missing and can only assume that she took it. As he tries to find her he is also trying desperately to remember what happened the night before. What he does remember doesn't agree with his belief that she's a thief, but he needs to find her. He does have a few pleasant memories and when he finds her at his office he has to decide what he believes.
Once the two meet up things really start to heat up. There is a definite attraction between them, but neither is sure they want the marriage to continue. The fun is seeing them fight the feelings that are growing fast. Georgette has some self esteem issues thanks to the emotional abuse from her late husband. She doesn't believe that James would ever really want to stay married to her. James is estranged from his family, especially his father, because of some things that happened ten years earlier. He certainly doesn't think he deserves to have someone like her in his life. Georgette has two sides to her personality - the prim widow acting under the influence of her late husband, and the passionate woman that came out when she was intoxicated. Never knowing which one was going to show up at any given moment keeps James intrigued and amused.
I loved the way that James and Georgette uncovered the mystery of what had happened the night before. Each thing they learned sent them on a quest for the next bit of information, meeting up with many different people. Each character brought something different to the story, exposing either a clue or a facet of the hero's/heroine's personality. There were so many fun moments, from the moment of waking, to Georgette's instructions to her "maid" and James's frequent injuries, to her refusal to stay and be protected, that I couldn't put the book down. I'm looking forward to reading the other two stories in the series.