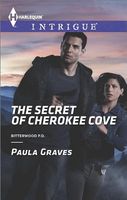 Series:
Bitterwood P.D.
(Book 5)
A near-fatal accident unearths old family secrets
Detective Walker Nix knew there was more to the Bitterwood police chief's "accident" and that someone wanted his boss dead. But when the victim's sister, U.S. marshal Dana Massey, insisted on becoming involved, Nix had a hunch his case -- and his heart -- was in for a heap of trouble.
With decades-old secrets -- including a missing secret baby -- being uncovered, it soon became apparent that Dana's family was at the center of the mystery. As Nix helped Dana solve this cold case, he found himself opening up more than he'd ever dared. Yet when it was over, she'd be leaving. Unless Detective Tall, Dark and Handsome took the scariest step of all…
Excellent book. Dana has come to Bitterwood for a couple weeks to see her brother and meet his fiancee. When Doyle is involved in an accident that turns out to have been deliberate she is determined to help find the culprit. To do that she's going to have to work with Walker Nix, a man she finds incredibly attractive. Nix is just as taken with her, but getting involved with his boss's sister isn't a good idea, especially since she'll be leaving soon anyway.
I really liked both Dana and Nix. Dana is a US marshal and very good at what she does. She is also a workaholic, using her job as a way to fill her life. As the oldest in her family, after her parents were killed in an accident she took responsibility for her two younger brothers. She blames herself for the death of her youngest brother and has never been able to open herself up to emotional commitment to another person. Dana's first day in Bitterwood has her accompanying Nix as they look for her brother. She is attracted to him, but resists because she won't be there for long. Investigating the accident with Nix shows them both that there is something going on that involves her family. The deeper they delve into her mother's past the more it becomes obvious that someone is hiding something big and they'll stop at nothing to keep it that way. Dana is determined to get at the truth and working with Nix is the best way to do it. I loved seeing Dana start to open up to Nix and share her feelings with him. Her guilt has been overwhelming until Nix shows her that she couldn't have changed what happened. Her feelings for Nix are growing too, but she is afraid of loving and losing.
Nix has spent his whole life in Bitterwood except for a short time spent in the Marines. He loves his hometown and the mountains. Working as a detective gives him a bit of excitement in his life while keeping him close to home. He hasn't been happy about the problems in the police department and is fully on board with weeding out the corruption. I like the fact that he has respect and liking for his boss. He's the one who takes the initiative to go look for Doyle when he doesn't show up where he should be. I also enjoyed his reaction to Dana and how he realized early on that she was going to be very important to him. I loved his protectiveness toward her, even though he knew she was capable of taking care of herself. Working with Dana gave him the chance to get to know her even better and realize that he wanted her in his life permanently. And that meant he was actually going to have to talk about his feelings too. I loved the ending and what he offered to do and how it all worked out.
I loved the mystery of Dana and Doyle's mother. Doyle had first gotten an idea that there was something going on during the last book and his investigation is what got him hurt at the beginning of this one. As Dana and Nix discovered more about what had happened the danger she was in increased. I loved the whole investigation and seeing Tallie come to life for Dana. The person behind the attacks wasn't a total surprise but there were some surprises leading up to it. I'm looking forward to the next book and seeing how it all comes together.
There wasn't much about the missing crime boss in this book, as it concentrated mostly on the mystery of Dana's mother. There were a few mentions of the ongoing search and investigation. I expect the next one will wrap it all up.