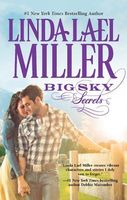 Series:
Parable MT
(Book 6)
Self-made tycoon Landry Sutton heads to Hangman Bend's Ranch to sell his land to his brother Zane. Though he's got cowboy in his blood, Landry plans to return to city life before the dust even settles on his boots. Of course, he didn't count on falling for Big Sky Country…or Ria Manning.
Ria's starting to settle into country life herself…until she has a close encounter of the terrifying kind with a buffalo. Turns out the peeping monster belongs to the cowboy next door -- and he has her running even more scared than his bison. She wants a home where the buffalo don't roam, and the men don't either. Could Landry's homecoming be her heart's undoing?
I loved this last book in the Parable series. It was a really fun wrap up. When Landry came to Parable he wasn't planning to stay, but life seemed to have other plans for him. Ria had come to Parable on a whim, looking for a new beginning after the death of her husband. The two of them struck sparks off each other from the beginning.
The introduction to Ria sets the tone for the book. She is relatively new to Parable, having bought her farm sight unseen and started a flower growing business. She's made some good friends, but still keeps pretty much to herself. One person who is NOT her friend is next door neighbor and buffalo rancher Landry Sutton. For the last year his buffalo herd (all two of them) have been escaping his land and coming to feast on her flowers. Once again they are back and she's had enough. When he arrives to get his animals she lets him have it, getting more frustrated as he just stands there grinning at her. When he tells her that all that passion has a better use and kisses her, it rocks her world. She's been emotionally numb since the death of her husband and the last person she wants to feel anything for is Landry. He's too handsome, has the women falling all over him, and she just doesn't like him - or so she keeps trying to tell herself. She doesn't want to admit that what she's feeling is far stronger than what she felt for her husband, especially at the end. He had cheated on her, destroying her trust in him, and making it hard for her to trust another man. But Landry won't let it go and tricks her into agreeing to go on a date with him to the local saloon. Between the events of the date and his refusal to let her hide any longer, Ria finds herself letting go of her fears.
I loved Landry in this book. In the previous book, as Zane's younger city-slicker brother, he comes across as pretty snobby. He came to Parable to sell his land to his brother and head back to the city. By the time this one begins, he has begun to settle in on his property. He still hasn't fully decided to stay, but he's a lot happier than he had been. This book starts out with Landry going head to head with a bucking bronc as he's trying to prepare for his first rodeo. It isn't going well. Things look up when he gets called to Ria's farm to retrieve his animals - again. He has enjoyed their spats and realizes that the woman really appeals to him. He would like to see where the attraction might go, but she won't give him a chance. I loved seeing him confront her with his belief that her dislike is really because she's afraid of the way he makes her feel. I loved their date and seeing Landry show himself to be a gentleman really sealed the deal for me. He had decided that she was definitely the woman for him and his gentle yet relentless pursuit of her is so romantic.
I always enjoy the humor that LLM uses in her books. The events are described so well that I feel like I'm right there and I usually find myself laughing out loud. Two prime examples are when Ria finds the buffalo in her yard and the date at the saloon. Just the description of what she saw out the window that morning made her problem with Landry seem perfectly logical. Even better was the narrative of the date. From her niece's commentary on her clothing to the events of the next morning, I was laughing all the way. I loved the description of Ria's beer consumption and her disbelief of the effect that Landry could see that it was having - until it was too late. The trip back to her house and what happened when they got there was a riot. Then Landry's care for her later was the sweetest thing and really showed that he cares. I also loved Landry's butler, Highbridge. He is such a proper British fellow that seeing him rag on Landry in that slightly snooty way is hysterical. Highbridge is quite fond of Ria and I love his combination of protectiveness and matchmaking. His antics for the rodeo were fun to see.
LLM also makes family of central importance in her books. Landry and Zane had grown apart during their adult years, but with his arrival in Parable they start to repair that relationship. Zane can be a bit of a pain as a know it all older brother, but it's obvious that he cares. We also learn more about their early lives with their mother. Even the rocky relationship with their father undergoes some changes. Ria has some family issues of her own to deal with. Her older half sister, who comes across as a real witch at the beginning, has always made Ria feel like an outsider. The only good part of that relationship has been Ria's niece Quinn, who runs away from home and comes to Parable, rescuing a dog along the way. They talk her mother into letting her stay for the summer and we see Quinn grow and change during the time she is there. There are also brief appearances by earlier couples as we see how their families are doing.