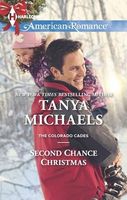 Series:
Colorado Cades
(Book 2)
A Christmas To Remember…
Ski-lodge manager Elisabeth is the quiet Donnelly twin -- sedate, mature, responsible. It wasn't like her to fall in love with ski patroller Justin Cade, famous for his killer smile, blue eyes and way with women. But it was just like him to dump her when things began to get serious.
Now he's suddenly back in her life, and the timing couldn't be worse. Elisabeth has plans to marry a successful businessman, and with Christmas around the corner, she wants to make the holidays special for her adopted young goddaughter. Falling for Justin all over again would definitely not be the sensible thing to do. But maybe, for once in her life, Elisabeth should follow her heart instead of her head.
Elisabeth has had a rough year. The man she had been dating, and fallen in love with, dumped her when she got too serious for him. Then her best friend died from cancer, leaving Elisabeth to raise her daughter. Just as she's making plans to marry a nice, stable man Justin slides back into her life, making her wonder if she's made a mistake. I liked Elisabeth. Even though she knew that Justin had commitment issues, she had been willing to take a chance. After getting her heart broken, she's ready to move on, but this time she's going to protect herself. I thought the man she found was pretty bland, more interested in his work than in her. When Justin started popping up again, she soon realized that what she felt for Steven wasn't enough for a marriage. With Steven out of the picture she decides that this time she'll just live for the moment with Justin and not let herself fall for him again. This time around she spends more time getting to know the Justin underneath the ladies man, and discovers a man whose past has made him afraid to risk his heart. I really loved seeing her get him to talk about his past and how much better she understood him because of it. I enjoyed seeing them together at her parents' house on Christmas, even if it did scare her away from him this time, fearing what another breakup could do to her and Kaylee. I also loved her relationship with Kaylee. She obviously loves being a mother in spite of her frequent fears about whether she can do a good job. There are several terrific scenes showing both the good and bad sides of motherhood.
Justin is known as quite a ladies man. He's fun, charming and terrified of anything that reeks of commitment. His mom died of cancer when he was young, then he watched his dad just fade away from a broken heart. Then his older brother lost his wife and son in an accident and he has seen Colin close everybody out. Justin figures that if he refuses to fall in love he will never have to deal with that kind of loss. He had been really enjoying his time with Elisabeth until she said she loved him. That scared him so much he broke things off, quit his job at her family's lodge, and set out to avoid her. Then Elisabeth's sister tried to talk him into contacting her again because Elisabeth is going to marry a man and move to California - a big mistake in her opinion. Justin isn't crazy about the idea because he's never quite gotten over his time with her. I loved the way he teases her and it's obvious that he really does care. Opening up to her about his feelings about his mother and her loss isn't easy for him. Getting included in her family's Christmas celebration only emphasizes what's missing in his life, but he still fights the truth. I loved his conversation with Colin and how he was told that love was worth the risk "You were just too chicken to hold on to the one you loved." I also enjoyed the scenes that Justin had with Kaylee. She loved him so much and he loved her just as much right back.
There are some fun scenes involving Elisabeth's sister, the self-proclaimed "evil twin" and her efforts to make sure Elisabeth gets her happy ending. I'd like to see her get her own book.