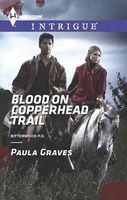 Series:
Bitterwood P.D.
(Book 4)
A raging storm and a ticking clock could mean the difference between life and death.
Bitterwood's new department chief, Doyle Massey, had a lot to prove to investigator Laney Harvey. Her take-no-prisoners attitude and his devil-may-care personality were destined to clash. Yet when three girls go missing in the Smokies, including Laney's sister, their priorities have to change. With lives in the balance, the two suddenly find themselves on the same side against a ticking clock.
Their biggest obstacles? The weather and one snow-covered mountain. Not to mention an attraction that's proving difficult to ignore. It isn't the time for creating any kind of lasting relationship. But with danger lurking around every jagged turn, taking such a chance might be a case of now or never.
Another terrific story from the Bitterwood P.D. Doyle is the new police chief and is trying to get settled into his new job. That isn't being helped by Laney, who is there to investigate the department because of the corruption uncovered in the previous book
Smoky Ridge Curse
. Her intensity and his laid back attitude strike definite sparks off each other. When three girls go missing their priorities change quickly to working together.
I loved Doyle and Laney. Laney is intense and very focused on her family also. She is intensely protective of her sister as is shown several times in the book. Her job is to investigate the police department and unearth any more corruption that might be there, with the possibility that the department would be dissolved and absorbed by the county sheriff's department. Obviously, Doyle isn't happy about that idea. Laney doesn't know much about him, just that he's a transplant from Alabama and seems rather devil may care. She gets to see a bit of what he's capable of when a call about a body leads to one of the girls who was with her sister. The two of them then find Laney's sister, who was shot and left for dead, and find themselves working together to find the missing girl. In spite of the slightly antagonistic attitude of their initial meeting, Laney finds herself very attracted to Doyle.
Doyle had only been on the job a few days when he met Laney. He appreciates her intensity and apparent honesty, but he's not going to let his department go under. He may give the impression that's he's laid back but he's just as determined as she is. With the discovery of the murdered girl and the wounded Janelle, all efforts are being put into finding the missing girl. With many of the locals unsure about him, Doyle finds himself paired with Laney during the search. He's very attracted to her but tries not to let it be a distraction. I really liked the way that he was determined to protect both Janelle and Laney. I also liked his sense of humor and how he told Laney how important laughter is to staying sane when dealing with so much bad stuff.
I loved the chemistry between Doyle and Laney. The attraction is strong but they don't let it distract them from the job at hand. I loved the various get-to-know-you things that went on, with Laney being surprised by the "flatlander's" abilities and Doyle accepting that Laney isn't just a desk jockey lawyer. There are some pretty amusing conversations between the two of them. They also learn how to work together and lean on each other in times of stress.
The mystery itself is really good. Though the crime boss from the earlier books is gone, it seems that there is another trying to take his place. That man has certain things he needs from Bitterwood and the girls are the way he is going to get it. The help he gets to carry out those plans is both surprising and not, and leads to quite a showdown at the end. Part of the mystery is solved, but part is ongoing. I think that there is also another mystery going on that, by a couple mentions of Doyle's parents, may involve his family. Can't wait to read the next one.