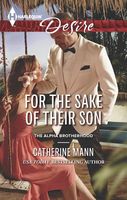 Series:
Alpha Brotherhood
(Book 5)
Friendship turns to passion...with consequences.
No one knows Elliot Starc better than Lucy Ann Joyner. Yet after one reckless night of passion, their friendship is in tatters. And though women line up for the race-car driver's attention, none of them help him forget Lucy Ann.
Except now he and Lucy Ann have a baby, and Elliot wants a second chance. The chance to become the father he never had. The chance for best friends to become something more. But can Lucy Ann forgive the mistakes he's made and trust that he wants more than a marriage for the sake of their son?
Very good book with fun, drama and intense emotions. Elliot and Lucy Ann have been friends all their lives. When he became a famous race car driver she took a job as his personal assistant, a job that worked for years. Then they indulge in one night of passion that changes their lives.
I loved the way the book started out. Elliot was at his friend's bachelor party when he was knocked out and kidnapped. It turns out to be a friendly sort of kidnapping, because it's his friends doing it. They dump him off at his childhood home where he sees Lucy Ann, who he hasn't seen in eleven months - since their night together. But she isn't alone, she is holding a baby. Stunned to discover he's a father, especially since he never planned to have kids, he is now determined to be a far better father than his own had been. Elliot started out planning to get Lucy back in his bed also, but trying to do so without truly involving his emotions. He freely admits his stupidity in letting Lucy Ann go in the first place, and not following her when she left. The things he had started feeling for her scared him, so he pushed her away. He's really nervous about being a father because his own had been abusive, but he's determined to do it right. I loved seeing him with baby Eli and how sweet he really could be. I also enjoyed the way his initial plans for Lucy Ann changed as he realized how much he needed her in his life. Thanks to them being friends for so long he had a good idea of how to do that. I really enjoyed his use of fairy tale themes, especially during their time in Spain.
Lucy Ann had grown up with a mother who was always looking for a man to take care of her. Some of her choices were pretty bad, and the effect on Lucy Ann was to make her very wary of what people called "love". She and Elliot had always been friends, looking out for each other when their home lives got bad. When he left home she felt somewhat abandoned even though she understood his reasons. When she worked for him later their friendship continued to grow. Then one night a celebration got out of hand and they slept together. The next morning his girlfriend showed up and Lucy Ann realized that he had essentially cheated on Gianna with her which made her furious. It brought back too many bad memories from her childhood. So she left him and went home to her aunt. She didn't want to tell him of her pregnancy when she saw he was engaged, but then kept putting it off until it was too late. She wasn't very happy when his friends dumped him there and tried to get him to go away. She was rather surprised by his determination to be a father to Eli. She also wasn't happy about her continued attraction to Elliot. Her guilt made her agree to stay with him for several weeks so he could get to know Eli, but she wasn't sure she could resist him. It didn't take long for her to realize that she was deeply in love with him, but she wasn't sure she could trust him to make and keep a commitment. I loved seeing her get won over by his love for Eli and the care he showed to her. I loved her reactions to their time in Spain. She also realized that she had to let go of her fears if she wanted a chance for them to have a happy ending to their own fairy tale.
I'm sad that this is the last of the Alpha Brotherhood stories as it has been a wonderful series. I loved seeing each of these scarred and lonely men find the woman who complements him perfectly. Each story has had characters who have believable flaws and issues. I loved the epilogue of this book and seeing them all together with their families.