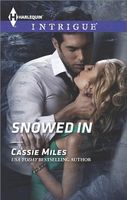 A small-town innkeeper's life is transformed by a sexy army ranger
Rescuing a beautiful woman from four armed men wasn't how Blake Randall planned to spend his army leave. But as chief security detail at his best friend's wedding, the ranger's mission is just beginning. A blizzard has cut off Sarah Bentley's Colorado B and B from the outside world, trapping them with a killer.
Snowed in with the rugged stranger who already saved her life once, Sarah has no choice but to trust Blake. As passion ignites, she realizes he's more than a strong shoulder to lean on. With danger escalating, it's time to listen to what her heart's telling her: with Blake by her side, they can survive anything….
This was a fun book. Sarah is hosting her friend Emily's wedding at her B and B. Things get off to a rough start when they are attacked by four armed men. Fortunately they are rescued by Blake, the groom's best friend, who is also in charge of security for the wedding. As the rest of the wedding guests arrive the danger increases, especially with the arrival of a blizzard that cuts them off. Blake and Sarah have to work together to stop the threat, while getting to know each other at the same time.
I really liked both Sarah and Blake. Sarah has been running Bentley's on her own for years. She is very independent, but she is also alone. She has a strong personality that tends to make her friends with men but not the type to have a relationship with. Her initial impression of Blake is that they have nothing in common, but she does feel a certain amount of attraction to him. When he rescues her and Emily from the gunmen she gets the chance to know him a little better. I really liked the way that she kept her head throughout the crisis. She also made it clear to Blake that she needed to know what was happening. As she learned more about the threat facing them she spent more time with Blake and discovered that they were much more alike than she thought. With the intensity of the danger her feelings for Blake were growing fast also. This caused some stress between them as she was afraid it was too fast to be real. Sarah also has to learn how to accept help and to compromise if she really wants to have a future with Blake.
Blake is nearing the end of his military career. He is ready to start a new phase of his life and maybe even settle down. He is impressed with Sarah's ability to stay calm in a crisis. He has arrived at the B and B already aware of some threats against the groom's father, who is a general, and the bride's father, who is a senator. The attempt to kidnap the bride just adds another layer to his stress. Once he accepted Sarah's requirement to keep her informed it gives him the chance to get to know her. It didn't take long for him to realize how much he liked her. I loved the romantic side of him that came out the night she tried on her bridesmaid dress. I really enjoyed seeing him adjust to her strong personality and come to truly appreciate it, while at the same time not losing himself. He is willing to compromise his own desires to be with her, but insists on the same from her.
The suspense story itself was good but not particularly intense until near the end. With both the fathers being important men, the threat could have been aimed at either one. The identity of the person behind the threats was well hidden, with several interesting twists on the way to the showdown. Each time someone new was added to the mix the questions just got harder. Having them all confined because of the blizzard made things very interesting.
There were some pretty amusing scenes throughout the book. The whole idea of the father of the groom being an army general and the father of the bride being a liberal Senator made for some terrific tension. Both men had pretty big egos and I enjoyed seeing Sarah try to keep them under control. The very best part was seeing Sarah, Blake, and a couple others taking bets on what would happen when the two met, and then seeing the sweet little bride take them both on.