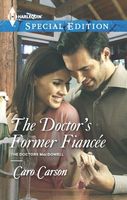 Series:
Doctors MacDowell
(Book 2)
When Braden MacDowell is reunited with Lana Donnoli, will their rivalry douse the last spark of their youthful infatuation--or ignite embers that never stopped smoldering?
She didn't want to imagine that the Braden MacDowell she had once loved could have turned so cold and calculating. But the billionaire CEO was taking away Dr. Lana Donnoli's funding. Just what was going on beneath her ex-fiance's icy facade? And just what could she do to get him to change his stubborn mind?
The last place Braden wanted to be was back in his family's hospital, close to the woman who had owned his heart. His business was all about the bottom line, a fact Lana just couldn't comprehend. But their passion for each other was still just as intense, still impossible to resist. Would those old feelings be enough to get them to a place where love was the best medicine?
Very good reunion story with feelings of guilt, expectations, forgiveness and healing. Lana had called off their engagement six years earlier when she saw their lives going in drastically different directions and she hasn't seen Braden since then. Then, on her first day as head of research at West Central, Braden arrives to cancel the funding on one of her research projects. She can't believe that he would put money ahead of the good of the patients. What she needs is to find a way to change his mind. She's not happy to discover that the attraction between them is just as strong as it ever was, because she doesn't see any way to reconcile their two completely different mindsets. I felt so bad for Lana. She and Braden had met and fallen in love during medical school. Their dream was to open a practice together and build a life together. During their final year she saw him suddenly start to pull away from medicine and start talking about getting a business degree. She felt betrayed by him and abandoned when he left Texas for Harvard. To top it off, she felt guilty about miscarrying their baby, blaming her workaholic habits for it. Now that he's back, she's fighting that attraction because she still doesn't see a future for them. She thinks that Braden would blame her for what happened. But as they work together to find a way to keep her research going, she discovers that after six years apart perhaps both of them have learned a little about the art of compromise and communication. I loved seeing Lana finally tell him what had driven them apart and the effect it was still having on her life and her fears of their future.
Braden had realized quickly during medical school that being a doctor was not going to make him happy, in spite of the family tradition. He was much more interested in the business side of the profession. Unfortunately he was never able to convince Lana and he was heartbroken when she ended their engagement. Six years later he is dating another woman and considering marriage to her, but feels that he has to lay the ghosts of his past to rest. He uses the research funding as an excuse to come to West Central and confront his memories of Lana, not expecting to see her in person. He is stunned to realize that he never stopped loving her. Now he wants to find out what went wrong before, and see if there is a way to be together again. I loved Braden's determination to win Lana back. His idea of the camping trip, where there were no distractions, was a real winner and it was great to see them finally begin to get to the bottom of their problems. It was nice to see him admit to his own role in their issues. The real challenge came when he had to go back to work and they had to deal with separations. I loved the ending and how they worked everything out. I have to say that I suspected that Braden would end up doing what he did and found it to be the perfect solution.
I really enjoyed seeing both Lana and Braden show their individual strengths. Her abilities as a doctor are outstanding, as is shown during the accident scene that they help at. I really liked Braden's obvious appreciation of her skills. Braden was a little harder to like at the beginning because his financial abilities seemed to have made him uncaring of the results of his actions. But he did end up willing to help her find a way to continue the program. I liked that he had they courage to go after his own dreams rather than just do what was expected of him.