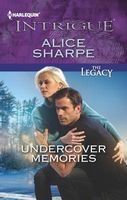 Series:
The Legacy
(Book 1)
HE MAY HAVE QUESTIONS ABOUT HIS PAST, BUT NOT HOW HE FEELS ABOUT HER...
Reeling after being left at the altar, Paige Graham seeks comfort in her secluded cabin. But there's someone sleeping in her bed-a sharp-eyed, sexy stranger who claims to have no memory. While a little digging reveals John's true identity, Paige knows there's more to his past...and more to her feelings.
He may have been told who he is, but bodyguard John Cinca isn't satisfied with the answers, especially when they place Paige in danger. With his protective instinct in high gear, John vows to uncover his true identity while keeping her safe. But what if recovering his memory means he is the one Paige should be afraid of?
Good book with plenty of action to keep me hooked. Paige is hiding out at the cabin as she recovers from being left at the altar. She didn't expect to find an injured man there, one who claims he doesn't know who he is. They quickly find out who he is, but not how and why he was attacked. With a killer on their heels, John needs to find out who he is and keep Paige safe.
Paige had a lucky escape from a man who has never forgotten his first wife. She went to the cabin where they were going to honeymoon just to get away from the pity for awhile. John's arrival spooks her, especially when he's on the news as a person of interest in an attempted murder case. But something tells her that she can trust him and that trust appears to be justified when he saves her from a man who attacks and kidnaps her. I really liked the way that Paige keeps her head when all these things start happening. She also trusts her instincts, which tell her that John isn't dangerous to her. I liked seeing her help him figure out who he is and how she is determined to stick with him until they do. There's some good chemistry between them also. I liked her sensitivity about his fears and how she's there for him as he tries to deal with them. There's one spot near the end where she seems to lose faith in him, but she gets it together in time.
John is understandably upset over his inability to remember anything. I liked the way that he tries to keep Paige out of his troubles, but is there to protect her when the bad guy shows up. He is very determined to find out who he is and why this person is trying to kill him. He has a recurring nightmare that involves owls and kids screaming and is afraid that he did something really bad. He wants to believe Paige when she says he couldn't do anything like that, but it is very hard for him. I really enjoyed his protectiveness as he tried to keep Paige safe. He could tell that he was falling for her but didn't trust his own character. I really liked his deductive abilities as he and Paige tracked down people who know him and tried to piece together his life. I enjoyed the final showdown and the explanation of John's story.
The mystery itself was pretty good, with the big question of why someone was trying to kill John. I'm not sure we ever found out why, but at least there was some resolution. The bad guy was definitely creepy and scary and very, very determined. There were a lot of bodies piling up by the end.