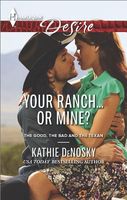 Series:
The Good the Bad and the Texan
(Book 3)
Know when to hold 'em…
One winning hand of poker and the Lucky Ace ranch was his -- half his, at least. The only thing standing in the way of Lane Donaldson making it his permanent home is the ranch's other owner.
Taylor Scott sure is something fine to look at, but she's adamant about running the ranch herself. And then she moves in -- with him! So Lane challenges Taylor to another game of poker for the ultimate prize -- winner takes all.
But who's to say they can't have a little fun while they wait for fate to deal their hand….
Good book. Lane won a fifty percent stake in the Lucky Ace Ranch. He has been enjoying having his own place to call home and loves being so close to his brothers. The only thing that would make it better would be getting the other owner to sell out to him. Taylor has no intention of giving up her part of the ranch. She also wants the whole thing and moves in to stake her claim.
Lane and Taylor get off to a rocky start when Taylor arrives at the ranch and accuses Lane of swindling his half of the ranch out of her grandfather. Lane doesn't take this well, as he has some things in his past that make this a very sensitive subject. Neither one is willing to sell out to the other and after some discussion they decide to play for it. The problem is, Lane is a professional poker player and Taylor has no idea how to play. Being an honorable guy, Lane offers to teach Taylor.
The attraction between Lane and Taylor starts to heat up the more time they spend together. Lane has to work hard to keep his concentration up while teaching Taylor how to play. She is the only woman who has gotten so close to him and he realizes that he wants it all with her. Taylor has started to let go of the suspicions she had of Lane as she gets to know him better. She's falling for him, but when she finds out about his past it brings all her doubts back to the surface.
Both Lane and Taylor have a fair amount of stubbornness in their personalities. Lane's got him through his rough childhood and the mistakes of his teenage years. With the help of his foster father and brothers he turned his life around and now puts that stubbornness to better use. When Taylor blows up at him he puts that same stubbornness to work to find a way to fix things with Taylor. Once she makes up her mind about something it takes a lot to get her to change it. In this case she had to take a hard look at herself and why she reacted the way she did. I loved the ending and thought that Lane's actions were really sweet.