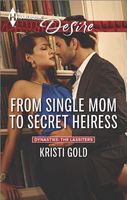 Series:
Dynasties: The Lassiters
(Book 2)
Where there's a will, there's a secret…
When Hannah Armstrong opens the door to find a cowboy on her porch, her jaw drops -- and not just because he's beyond handsome. Apparently she's heir to the Lassiter fortune. If Logan Whittaker, cowboy-turned-attorney, can help her uncover the truth about her biological father, why say no -- at least for her daughter Cassie's sake?
With Hannah tucked away at his ranch house, Logan longs to turn their business affairs into something more personal. Except Hannah has enough dark family secrets to cope with -- and Logan's own past could spell trouble just as things are really heating up….
Single mom, emotionally wounded man. Hannah hasn't had an easy life. She was the illegitimate daughter of a man who was never in her life. Her mother was a bitter woman who never had anything good to say about him and who frequently didn't seem to even like her own daughter. Hannah had a happy marriage with a man who loved her, but he died shortly before their daughter was born. She was determined that her daughter have a better childhood than she did and made sure that Cassie heard plenty of stories about her daddy. But things were still rough financially, until the day that Logan showed up at her door.
Logan is one of the lawyers working for the Lassiter estate and came to tell Hannah that she had inherited some money. There are some conditions, one of which is that she can't tell anyone of her connection to the family. Hannah is more interested in learning about her father than in taking the money and turns him down. Logan doesn't want her to lose out without knowing all the facts, and invites her to come to stay with him while she investigates.
There is an immediate and strong attraction between Hannah and Logan, but any number of reasons they should avoid it. Hannah wants to protect her daughter from being hurt by a man who wouldn't stay in their lives and her own heart from falling for another man. Logan has spent the eight years since his divorce hiding from risking his own emotions. There are things in his past that make him reluctant to get deeply involved with anyone, especially a woman with a child.
I really liked the way that Hannah was more interested in finding the truth about her father than in having the money. She's felt the lack her whole life and now that she has the chance she's going to take it. She's nervous about staying with Logan, but she's also tempted. Logan waffles back and forth between being glad Hannah is there so that he can get to know her better, and being terrified by his growing feelings for her. I got a bit frustrated with the way he would avoid her when his feelings got to be too much. I was glad when he finally found the courage to tell her his story, but he's still fighting his feelings. His guilt and fears were so strong that he couldn't see any way for him to be happy. I did like his big moment at the end.
Hannah finally gets her questions about her father answered. I loved seeing her get to know the various Lassiters on her journey. There was quite an interesting twist to the story by the end. It was nice to see Hannah get the type of family she'd always wanted.