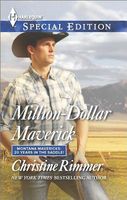 Series:
Montana Mavericks: 20 Years in the Saddle
(Book 1)
Finding true love: priceless
RUST CREEK RAMBLINGS
People say that the odds of finding your perfect partner are rather like the odds of hitting the lottery: slim to none. It's hard to believe, faithful readers, but Nate Crawford may just have accomplished both. We have the scoop on Rust Creek Falls' best-kept secret: our former mayoral candidate is now a very wealthy man! Yet he is going out of his way to make sure no one finds out. The question is, why?
Insiders whisper that Nate is also keeping another secret from his new girlfriend, nurse Callie Kennedy -- a big one -- and it could be a game changer. Place your bets, dear readers! What will she do when she learns her "regular guy" boyfriend is really a maverick millionaire?
Loved this! In last year's Montana Mavericks books Nate was definitely the one everyone loved to hate. He was arrogant, thought he knew what was best for everyone, and pulled some really dirty tricks during his campaign for mayor. At the beginning of this book he's headed out of town when he comes to the rescue of a stranded motorist. He's not in the best of moods thanks to it being the anniversary of the day he lost his wife and baby and Callie's perkiness rubs him the wrong way. After finding out that she's new to town, he bets her that she won't last the winter. Then he continues on his trip, one that ends up changing his life in a big way.
I loved seeing the new Nate. Instead of blowing his winnings by partying, he is using them to help people in his hometown. He is doing it anonymously, not wanting any recognition for doing what he feels is the right thing. He is also finally starting to come back to life after the loss of his family ten years earlier, thanks to the attraction he feels for Callie. I loved seeing him open up to her about his past and his fears, something he hasn't been able to do with anyone else. He takes a really big step in trying to move forward by getting involved with her and things are looking very hopeful. Trying to be worthy of Callie also has him going to Collin and Sutter Traub and apologizing for what he did during the election. I loved seeing his nervousness and how he was still fighting against the habits of years. I also enjoyed then seeing as the Traubs worked to get Nate involved in their plans for the town, and he tries resisting. Just when it feels like Nate is finally going to get his happy future, his fears come roaring back and send him running. Fortunately Fate steps in and keeps him from getting too far before he realizes that there are no guarantees in life and he has to be willing to take a chance on happiness.
Callie was wonderful also. She had left everything behind in Chicago to start a new life in Montana. She is a person with a positive attitude and a truly caring personality. It doesn't take long for her to fit in. She also has no trouble going after what she wants, and has her heart set on buying the house next to Nate's. I loved seeing the way she talked him into selling to her. She had no plans to get involved with him when she arrived in town, but her attraction to him wouldn't be denied. Even when her friends tried to warn her against him, she had the confidence to trust in her own feelings. One of the things I loved about her was her patience and understanding of his fears. Even when his fears sent him running, she had enough love and confidence to go after him. I also enjoyed her quick wits and the way she figured out his big secret. Her love for him grew even stronger when she found out what he was doing and why.
I really liked seeing previous characters make return appearances. After the problems of last year's elections I loved seeing Nate own up to his mistakes and end up with the beginnings of a friendship and business partnership with Collin and Sutter. I look forward to seeing what comes of it. Nate's mom also had a part to play in this book as she continues her interfering ways in trying to get another one of her children settled. It was rather satisfying to see her have to face up to her own mistakes.