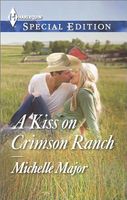 Series:
Crimson CO
(Book 1)
FROM HOME-SWEET-HOLLYWOOD…TO HOME ON THE RANGE
Former child star Sara Wellens has hit a dead end in Hollywood. When she inherits half of a crumbling guest ranch in Crimson, Colorado, Sara figures she'll sell her portion to get back on her own two feet and be back in the black in no time at all. No harm, no foul…right?
The one thing she didn't count on was her partner-in-property, hunky former bull rider and single dad Josh Travers. Sara is surprised at how quickly she bonds with the charming cowboy and his daughter. But she insists that she's definitely not looking for a forever family. Can the rancher and the starlet let down their guards to find their own Hollywood happy ending?
Very good book. This is the story of a Hollywood actress and a rodeo star, but not really. Sara's career as an actress ended years ago, and Josh no longer rides the bulls. Sara has learned that she has an inheritance from her grandmother and has come to claim it. Since the end of her acting career she has been stuck as a waitress. She is broke, plus she feels responsible for her best friend's loss of savings, when she invested in a project with Sara that went horribly wrong. Sara just wants a chance to pay April back and move on with her life. But things aren't that simple. She now owns the ranch house, but the land is owned by Josh. He and her grandmother had started a guest ranch, giving him the opportunity to have a stable home for his thirteen year old daughter. He'll buy the house from her, but it will have to wait until the end of the summer, after the tourist season is done.
I loved both Sara and Josh. Sara irritated me a little at the beginning, because she was so snarky about everything to do with the ranch. But it became obvious very quickly that her attitude was a way to hide her vulnerability. Sara had become an child actress because her mother pushed her into it. While she liked the acting itself, the lifestyle was awful and the things her mother did made it even worse. All Sara really wanted was to be accepted and loved for herself. When she met Josh, at first she only saw the guy who was standing in her way, but his determination to build a good life for his daughter touched her in ways she didn't want to admit. Her attraction to him was something she didn't want because it was a distraction from getting on with her life. She also identified a lot with Claire and her issues. She found herself wanting to help Josh and Claire repair their father/daughter relationship. She could see how much Josh loved Claire and wanted what was best for her.
Josh wasn't happy to see Sara show up with her plans to sell the house. It would ruin the plans for the guest ranch and his opportunity to give Claire the home she hadn't had before. He desperately wants to give her that stability. Things that happened in his past have made him a bit over protective of her and it is creating a huge problem for them. If he can talk Sara into waiting to sell, he has a chance to make his plans happen. He doesn't expect to be attracted to her, and he certainly doesn't expect to find himself actually liking her. He knows she isn't planning to stay, and he doesn't consider himself a good relationship bet anyway, but it isn't long before he's wishing she would stick around.
The developing relationship between Sara and Josh was great. Both had their issues, but when they worked together good things happened. I loved the way that Sara and her friend April jumped in and made themselves part of the guest ranch. Sara really didn't expect to like anything about it, but with Josh's help she really started to appreciate what was around her. Josh was so clueless about how to deal with his daughter that he ended up being grateful for Sara's help. Once they started to let down their guards a little, they discovered that they had a lot more in common than they expected. The love between them was strong, but both had trouble seeing past expectations to the possibilities that they could have.
The secondary characters were just as well done as the main ones. Claire was a thirteen year old girl that actually acted like one. She had the volatile emotions, the sometimes sweet, sometimes nasty attitude so typical of the age. Sara saw enough of herself in Claire that her desire to help felt real and logical. Sara's mom was a real piece of work. It was easy to see how she had affected Sara and influenced Sara's life. I really found myself rooting for Sara to finally get the confidence to deal with Mom once and for all. Other characters, such as April and Josh's friends, made me look forward to the possibility that they will have stories of their own.