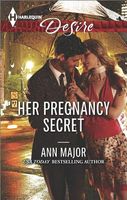 She'd almost made him believe she was innocent
Michael North knew Bree Oliver was a gorgeous gold digger after his brother's fortune, so he seduced her in a night of lovemaking and swore he'd let her go. Then a tragic accident changed everything. Now he must honor a deathbed promise to his brother -- to protect the one woman Michael can never trust.
But watching over the pregnant Bree tests the tycoon's self-control. Is Bree as virtuous as she claims? Or is he a fool to fall for her act? Torn between desire and distrust, Michael's walking a treacherous line, unaware of the shocking secret she's carrying….
I had high hopes for this book because it's a theme I usually enjoy. But the hero, Michael, spent so much of the book being not just a jerk, but a cruel one, that I couldn't connect with him at all. It all starts when he seduces the woman he thinks is after his younger brother. He's going to expose her to Will as the gold digger he thinks she is. He doesn't expect to feel so connected to her, but still believes himself to be right. After telling her exactly why he slept with her and what he thinks of her, he walks out. He doesn't understand why his brother gets so angry when he exposes Bree, and why it creates such a wedge between them. When his brother is involved in an accident involving Bree and a friend, Michael barely makes it in time to say goodbye to Will. He's not happy when Will makes him promise to look after Bree and the baby she carries. He's still convinced she's been after Will's money all along. He continues being a complete ass to Bree, even as he starts to suspect he might have been wrong about her.
I understood Michael's protectiveness of his brother. Michael had had a horrible early life before being adopted by Will's father, and never felt that anyone really cared about him except for Will. Michael had also been badly burned by a woman who was a gold digger and saw all women through that experience. But I felt it took way too long for him to see that he was wrong about Bree. Even when he did, his attitude still remained that of a manipulative jerk. I also thought it took too long for him to realize the truth about the relationship between Bree and Will, and even then it took photographic evidence to do it. I really didn't feel too sorry for him when Bree refused to have anything more to do with him.
Bree was a warm and caring woman who was trying to keep her late brother's restaurant going. Will had been one of her brother's friends and investors and became a friend of hers also. When she first met Michael she was attracted to him, even though Will told her what a cold, manipulative man he could be. During their second meeting, she fell completely for the caring, romantic man he seemed to be, and was completely devastated by his words and actions the next day. Though her attraction to him remained strong, she was also determined not to give in to it without a complete change of attitude on his part. As they started to get closer, she tried to protect herself but ended up falling for him anyway. I liked the way that she stood up for herself and her own needs against all of his attempts to get his way. I did understand her reluctance to believe he had changed at the end. She had her own issues with the past, and had trouble believing he wanted to be with her for any reason other than that she was pregnant.
Seeing the two of them learn to let go of the past was the redeeming factor in the book. It took a lot for Michael to let go of the things that had made him so cynical. I did enjoy seeing him have to work to show Bree that he had changed, because if it had been too easy I don't think it would have meant as much.