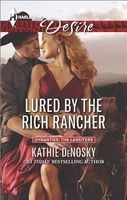 Series:
Dynasties: The Lassiters
(Book 4)
If you want to truly know a cowboy…saddle up real close
Chance Lassiter is comfortable on a horse, not in front of a camera. But public relations expert Felicity Sinclair thinks he'd be the perfect spokesman to restore the Lassiters' tarnished image. There isn't much the wealthy rancher wouldn't do for his family, so he welcomes the sexy consultant to his ranch, wondering if she'll sink or swim on his territory. Soon he's the one drowning -- in passion. This city girl sure knows how to handle herself. But when it comes to handling him? It's time for Chance to show Felicity what a real cowboy is all about.
Very good book. Chance saw Fee at his sister's wedding and was immediately attracted to her. Fee noticed him also, and not just as a gorgeous man who appeals to the woman in her. As a PR expert, she thinks he'd be perfect as the new face of the Lassiters, someone who can get people remembering that they're a family oriented business. The problem is that Chance has no interest in being in the public eye.
Fee wants the opportunity to convince him, and Chance just wants to get to know her better, so he invites her to come stay on the ranch with him. Chance figures he can show her that he's a working cowboy, not someone suited for the limelight and Fee is equally convinced she can convince him that it's not as bad as he thinks.
Fee and Chance are about as different from each other as they could get. Fee is all city girl, used to bright lights, fancy clothes and sports cars. Chance is all country. He dislikes the crowds, loves his open spaces and taking care of the ranch. They do have one thing in common. Both of them have let a parent's actions influence the way they live their lives.
Chance was surprised by the discovery that his father had had an affair, fathering a child by the woman. He had idolized his dad and that knowledge has him questioning his own tendencies. If his father had cheated on his mother, certainly that means that he could end up doing the same thing. He hates the idea of putting a woman through what his mom went through and has decided he won't marry at all. At the same time, Fee is determined that she will never let a relationship with a man influence her career. Her mom had left a successful career to marry her dad, and when he left them her mom fell apart and never went back to her career.
Chance and Fee can't deny the attraction they feel for each other. Since neither wants a long term relationship, they agree to enjoy each others' company with no expectations. Those intentions fade fast the more time they spend together. I loved seeing Fee become a part of the ranch so quickly. Her introduction to the horses and riding was so much fun to read. She also found that she was enjoying her time there far more than she expected. Her job was beginning to feel less important than the way she felt about Chance and that scared her. Chance went from looking at a no strings encounter to trying to find a way to make Fee want to stay. It took him awhile to admit to himself that what he felt was love. He planned a "go big" moment that blew up in his face, and it took a talk with his sister for him to realize where he had gone wrong. The ending was terrific.