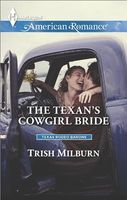 Series:
Texas Rodeo Barons
(Book 2)
SHE WASN'T LOOKING FOR LOVE
Savannah Baron is determined to turn The Peach Pit from a simple roadside stand on her family's Texas ranch into a bustling country store. She's too busy with her business to even enter many rodeos anymore, let alone date. But when a health scare prompts her to search for her long-estranged mother, she discovers more than a helping hand in an old friend.
Soldier-turned-private investigator Travis Shepard never thought he'd move on after his wife's tragic death, yet with Savannah, the walls he built around his heart begin to crumble away. But Savannah still faces a medical crisis and Travis can't bear the idea of losing anyone else. Can he find the strength to love again?
Good book. I really liked both Savannah and Travis. Savannah has taken over the family store as her contribution to the family business. She loves what she does and has great plans for expanding the business, if she can just get her father to agree. About once a month she takes some time for herself and competes in a barrel racing event at a rodeo. At the latest rodeo she runs into Travis, an old friend from high school. He is a widower and has a private investigations business. Savannah suddenly notices him as more than just a friend. Travis is there when she takes a spill and is the one to drive her to the hospital.
Travis is trying to get his life back together. While he was serving overseas with the army his wife was shot and killed during a robbery attempt. He has guilty feelings because he wasn't there when it happened. He's also filled with a lot of anger toward the young man who did it. He never expected to be attracted to another woman, but he's having a hard time forgetting about Savannah after seeing her again. He had a big crush on her in school but never had the courage to go after her.
Savannah has been thinking a lot about her mother who left them years ago. When she has a need to find out more about her medical history she turns to Travis for help in finding her. While working together they also discover a chemistry that they can't deny. I loved seeing Travis do things with Savannah that were fun. He could see that she is so focused on business that she doesn't do much for herself. Then the stress of her health concerns adds another layer to it and he wants to see her laugh and smile. But he also worries about getting too close to her. He's put up some pretty high walls to protect his heart and the thought of losing her is something that scares him. He doesn't know if he can open himself up again.
Savannah has her own issues that she is dealing with. She has been keeping her health concerns to herself so that she doesn't worry her family. She also feels that she can't tell them about her search for their mother. Savannah is the one in the family who tries to avoid confrontations, but things are rapidly building for her. Her feelings for Travis are growing, but she's wary of telling him because of fears of rejection. She's also been dealing with her father over the future of the store. Ever since his rodeo accident has kept him home from work he has been interfering more and more. She knows what she wants and how to get there but convincing him has been impossible. I loved seeing how her feelings for Travis give her the confidence she needs to stand up to her father and fight for what she wants.
In the end Travis had to face his fears and decide whether loving Savannah was worth the risks. I really enjoyed the way the story finished up with a couple of really neat twists.