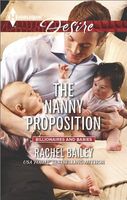 Series:
Billionaires and Babies
(Book 48)
Hawke Brothers
(Book 1)
Two babies…one scandalous secret!
Discovering he's the father of an orphaned newborn rocks botanist Liam Hawke's world. But that's where nanny Jenna Peters fits in -- a single mother herself, she immediately works her magic on his newborn daughter. Soon Liam himself can't resist being spellbound by this beauty.
Jenna tries to keep her irresistible boss at arm's length but it's a losing battle. Once Liam finds out who she really is, she'll have to say goodbye to the man she loves and their unconventional family…unless the seductive single dad makes her a proposition this undercover princess can't refuse!
Emotional story. Liam discovers that he's a father when a hospital calls to tell him that a former girlfriend has given birth, but is suffering complications. By the time he arrives, the woman has died, leaving Liam with a newborn daughter. He has no idea how to care for her, but has fallen under Bonnie's spell immediately and is determined to do the best he can for her. With her maternal grandparents determined to wrest custody from him, Liam knows he needs help.
Jenna is a single mother of an eight month old girl who is working as a housekeeper for Liam's brother. Liam wastes no time in hiring Jenna away from Dylan. Jenna can't resist taking the job because it means she can keep her baby with her while she works. She doesn't know how long she'll be staying, as she knows she needs to go home sooner or later.
I loved seeing Jenna tutor Liam in how to be a parent. He is so sweet in his determination to be everything she needs. It was heartwarming to see how quickly he took to being a dad. Jenna and Liam do some bonding themselves over late night baby bottles. Jenna gives Liam some great ideas for the launch of his new flower. She also encourages him to reach out to Bonnie's other grandparents and see if a compromise can be reached in their custody battle.
There's a deepening attraction and growing feelings between Liam and Jenna. They start to feel like they're building a family. But Jenna's conscience starts to bother her and she decides it's time for her to go home and face her parents. Before she can go, she feels she has to tell Liam the truth about who she is. Liam is intimidated by what she tells him, for it brings back some bad memories from when he was younger. It takes an eye opening conversation with his brothers to straighten him out. Then all he has to do is face Jenna's parents. That scene was fantastic and brought the fairy tale to the perfect conclusion.