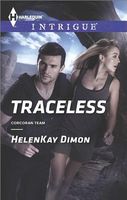 Series:
Corcoran Team
(Book 5)
Connor Bowen hasn't seen his wife since she left him seven months ago claiming he was more married to his job than he was to her. Now his past has plunged Jana into mortal danger. This time the former Black Ops agent won't let anything come between him and the woman he'd lay down his life to protect.
Jana moved across the country to start over far from Connor. But after she's brutally abducted, she has to once again rely on the Corcoran Team leader for survival. Seeing Connor again reawakens old feelings, and she considers taking him back -- but will she even get the chance?
I have been waiting to read the story of Connor and Jana and find out why they have been apart. In the previous books it's been easy to see that her absence is tearing Connor apart. At the end of the last one he had made the decision to go after her. But before he could do so, she was kidnapped.
The love between Connor and Jana had never been in question. There was always plenty of that. The problem was that, because of his past, Connor constantly worried about Jana's safety. He did everything he could to keep her safe, but tended to go a bit overboard. When she found that he had put tracking devices in her clothing and investigated people she came in contact with, she started to feel smothered. Nothing that she said to him seemed to make any difference. Finally she just had to get away, and went to Utah to work with a friend's charity. She didn't mean to stay away long, she just had to find a way to show Connor that they needed some balance.
The kidnappers seemed to know that the best way to get to Connor was through Jana. Where they made their mistake was in failing to understand that she meant just as much to Connor's team. They were not going to let Connor go in alone. The action was nonstop from the minute they all showed up. I loved seeing the closeness of the team and how they all stepped up to help him. I especially liked the way, at the beginning, they let him know that they had all been aware of what he was going through and had wanted to help if he had just let them in. That may have been where Connor starts to understand what Jana had been complaining about.
I loved Jana's confidence that Connor would arrive in time to save her. She never doubted his love for her. Once they saw each other again, the good things about their marriage were remembered. During their fight to discover who is threatening their lives they are also given the opportunity to confront their issues. It was really fun to see Connor as he finally started to listen to Jana and hear what she had been trying to tell him. You could see how hard it was at times, but he really did try. I also liked the way that Jana took responsibility for her part of the problem too. There were some great scenes where Jana really surprised Connor with what she was able to do. I think that went a long way toward laying some of his fear to rest.
The suspense part of the story was excellent. Jana had stumbled on something that didn't look right, and it was right after that the trouble started. One of the bad guys had two agendas going on. His identity really wasn't much of a surprise and was revealed fairly early in the book. Jana had been pretty clueless about him, but Connor had his number from the beginning. I loved that the team was completely with him on that feeling, which motivated them even more. There was another player in the game that I didn't figure out until nearly the end. That one added a whole other layer to the danger Jana was in. I loved seeing how that one worked out.
I really enjoyed seeing more of Cam, and also getting to know Holt and Shane a little better. All three are great at their jobs, but you could also see their respect and love for Connor. For such big, strong guys it was fun to see them get a bit clutchy whenever things like love, family or relationships were mentioned. I have high hopes that the author has plans for the three of them!