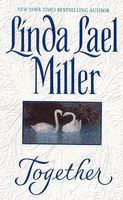 IN ALL SEASONS
Together as two hearts once torn apart by greed and deception are united by a vow of eternal love.
Christian and Melissande had fallen in love young. Shortly before they were to marry, Mellissande was told that Christian had died when his ship sank. Distraught, she tried to kill herself, but was stopped by Christian's older brother who offered to marry her instead. Rather than do so, Melissande enters a convent, where she hopes to become a nun.
Two years later a badly beaten man is found outside the gates of the convent. Melissande is overjoyed to discover that it is Christian. Her joy soon turns to heartbreak as he accuses her of betraying him and sending him to slave in the galleys of her father's ships. He wants nothing to do with her now, but must accept her assistance while he heals. Christian refuses to believe her protestations of innocence.
Over the next month, as he heals, Melissande is horrified to hear about the conditions on the ships. Now that her parents are dead, she is the owner and she is determined to make changes. Though he claims to have nothing but hatred for her now, Christian won't let her go to London alone. During the journey and after they arrive, Christian finds that he can't help being protective of her.
Melissande knows that she still loves Christian and tries to get him to accept the truth. She finds that she needs his help to accomplish her goals, just as he needs her assistance for his. I loved seeing Christian confronted by the truth when they reached his lands, and seeing him admit his fears to Melissande. I loved seeing them work together to achieve their goals. The ending was very nicely done.
THE SCENT OF SNOW
Together when true caring overcomes desperation and turns mistrust into devotion.
Very good story. Rebecca had brought her two young sisters to Cornucopia, Washington from Chicago in order to give them a better life. It isn't easy and things are tight, but they have a stable life there. Then one day Lucas Kiley comes riding up to the house, a man she never expected to see again. Lucas was just as stunned to see her. They had known each other in Chicago, where they had grown very close. When her father showed up and left her sisters with her, Rebecca had to find a way to support them all. At the same time, Lucas had been involved in an accident and was reportedly dead of his injuries. When she was given his effects she found the deed to the Cornucopia property and moved there, calling herself his wife.
Rebecca fully expects Lucas to kick her out of his home, but he doesn't. He begins to act as if they are really married. She is surprised and confused by his care and kindness, and by the way she feels when he is near. It doesn't take long for her to fall deeply in love with him. But she has a secret that has followed her from Chicago and she's afraid of what Lucas's reaction will be.
Lucas was surprised to find his home occupied when he arrived, even more so by who was there. His memories of Rebecca were one of the things that kept him going through the long days of his recovery. He discovered that he liked having Rebecca and her sisters there, and the idea of being married is growing on him. The revelation of her secret shakes his faith in her and his feelings, and he has to make a decision about what to do.
In spite of this being a short story, I really felt the progression of their romance. I loved how Lucas saw that Rebecca had never really had anyone take care of her, and how sweetly he did it. Rebecca's growing desire for Lucas was beautifully done. Her unhappiness after her big revelation had me in tears for her and waiting anxiously to see what Lucas would do. I loved the ending.
THAT OTHER KATHERINE
Together for a second chance at life and love.
The story begins with Katherine beginning to regain consciousness after being in a car accident, but it doesn't last. She pleads for her life with the "bright light" and suddenly comes to in the middle of labor in a strange place. She's quite disoriented, but within a few hours discovers that she has been transported into the body of a woman from the late 1800s. She quickly realizes that all is not well between the woman and her husband, who has accused her of infidelity.
Katherine can see that the baby is indeed Gavin's child. She knows that if she is going to be stuck in this time she is going to have to repair her relationship with her husband, but has no idea how to do it. So the first thing she does is to learn all she can about the other woman. She is also determined to be herself, which really confuses the people around her.
Gavin doesn't know what to make of the changes in his wife. He had married her for love and was hurt and furious with her actions. He decides to send her away for awhile to give him some peace. But the things he hears back from the servants confuse him and when he goes to see her there's a new spark between them. He no longer trusts her and resists those feelings for as long as he can.
I enjoyed seeing Katherine make the decision to go with the life she has been given, but also to make it her own. She isn't going to sit back and suffer the consequences of the other woman's actions. She works hard to show Gavin that she's different and that they can be happy together.
STORE-BOUGHT WOMAN
Together when misdirected desire unexpectedly leads to lasting happiness.
Bess had left Philadelphia to become a mail order bride in order to escape bad memories. She arrived only to discover that the man she was to marry had left town, leaving his brother to pick up the pieces. Will is a big man, not as polished as his brother, but very kind. He is taken by Bess right away and would really like her to stay and marry him.
Bess feels rather out of her depth with the life here so much different than her life back home. She's not too sure about Will at the beginning, but is willing to get to know him. I liked his patience with her fears and how he tried to make her feel at home. He quickly falls for her but fears that he isn't good enough for her.
Her fears overwhelm her at one point and she has to decide if her growing love for him is enough to face the risks. I liked the way it ended.