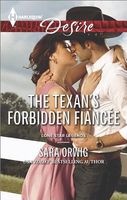 Series:
Lone Star Legends
(Book 1)
One taboo Texan
After a century-long family feud, Madison Milan doesn't trust any Calhoun -- especially Jake, the man who ditched her on the night of their elopement. But when he shows up claiming an heirloom map leads to gold on her ranch, she's swamped by steamy memories. She may not trust Jake, but she just might want him….
Jake will do anything to get what he wants -- Madison's ranch. Consider it payback to the Milans. And Madison? She's collateral damage in their family feud. The confident cowboy has nothing to worry about…except falling for the forbidden beauty all over again….
Jake and Madison had been in love as teenagers, in spite of their families' long-standing feud. They didn't care and just wanted to be together. They made plans to elope, but Jake never showed up, breaking Madison's heart. She hasn't spoken to him since then. When he contacts her to tell her he has a family map that shows where gold has been buried on her ranch, along with the bodies of several of their ancestors, she is intrigued enough to allow him to hunt for it. She also doesn't trust him, so she's determined to keep an eye on him.
Keeping watch over Jake means spending a lot of time with him. It quickly becomes obvious to them both that the old passion is still there and stronger than ever. But their hurt and anger over what had happened years ago is still there, and they can't move forward until the past is dealt with. When the truth comes out, Madison is shocked, and both realize that their anger has been misplaced. Now they have to decide if they want to move forward together, or part ways if and when the treasure is found.
To complicate matters, Jake hasn't been entirely up front about what all is involved in his search. He's told Madison about the gold, and made a good case for finding their ancestors' bodies and giving them a proper burial. But there's something else that's supposedly with the treasure that will give him the revenge he's been looking for against the Milans. Unfortunately, that revenge could ruin what is growing between them.
I enjoyed the heat between Jake and Madison, and the way that it ended up opening their lines of communication. In spite of their initial antagonism, they were still able to work together. Once they resolved their past issues it was great to see the way that they started to get to know each other again. Madison started to trust Jake and Jake started wondering what was going to happen to those feelings if they found the treasure. Things got really interesting at the end, and I loved seeing the way Jake made it work.
The whole feud idea was very interesting, but we really didn't get very much information about it. I expect that there will be more revealed in later books. The various siblings on both sides all seem ready for their own stories, but I am really looking forward to Tony and Lindsay. I suspect that, with the amount of fireworks between them, they are going to end up together and in a spectacular way.