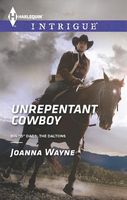 Series:
Big D Dads: The Daltons
(Book 2)
Protecting the innocent is second nature for Dallas defense attorney Leif Dalton. So when his teenage daughter insists on visiting the Dry Gulch Ranch -- and forging a relationship with Leif's estranged father -- he's ready to do what it takes to keep her safe. And although he doesn't want another connection to the ranch, after sexy veterinarian Joni Griffin lands in a stalker's crosshairs, staying close becomes his only option.
With a serial killer in pursuit, Joni will take any measures to survive. But joining forces with Leif puts her heart at risk. As the danger rises, so does the passion flaring between them. Now trust may make the difference between life and death.
Leif is a high powered Dallas defense attorney who is feeling a bit burned out. By the end of his latest case he's gotten the feeling his client isn't so innocent after all. When his fifteen year old daughter shows up on his doorstep wanting to get to know her grandfather, Leif's estranged father, he's not very happy about it. His relationship with her hasn't been great lately, so he'll suck it up for this chance to reconnect with her.
Leif harbors a great deal of resentment toward his father because of the way RJ wasn't there for him and his brother. His dad may be trying to make amends now that he's dying, but that doesn't mean Leif has to go along with it. He's certainly not going to let his daughter spend too much time with such a crummy excuse for a father. He meets his father's vet Joni soon after arriving at the ranch. When he discovers that her home has been broken into after a murder happened near her home, he can't help but jump in to protect her.
Joni doesn't know why she seems to be the target, but she's glad for Leif's presence. Having him there makes her feel physically safer, but she's not so sure about her heart. The danger is intensifying emotions for both of them. One of the things she really likes about Leif is his obvious love for his daughter. I liked the way that she encouraged him to talk to Effie openly and truthfully.
There were a lot of parallels between Leif's relationship with his daughter and the one with his father. It took Joni pointing them out for him to be able to see them. She lets him know that he's going to have to deal with his past before he'll be able to have a successful future with his daughter.
The suspense itself was pretty good. I enjoyed seeing the way that Leif and Joni worked together to figure out who it was. There were a couple of things going on that created some confusion. Some of the clues were buried enough that it took awhile for them to sort it out, but even then it almost got ignored. The final confrontation was good, but the resolution of the relationships felt a little rushed.

One negative about the book was the cover. Leif isn't a cowboy, he's a lawyer. He spent only a few years as a young child on the ranch. It shows him on a horse, and I don't think he rode once during the whole book.