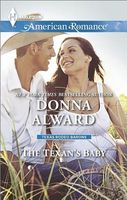 Series:
Texas Rodeo Barons
(Book 1)
Unexpected Consequences
As a powerful Dallas oil executive, planning is what Lizzie Baron does best. But she certainly didn't plan on getting pregnant following one memorable night after a rodeo in Fort Worth. Now she needs to figure out how she's going to raise a baby with a man she barely knows.
Aspiring bronc rider Chris Miller always hoped he'd see Lizzie again, though not quite like this. The pregnancy is a surprise -- and so is finding out she's a member of the powerful Baron clan -- but the more Chris gets to know Lizzie, the more he realizes he wants to be with her. When Lizzie learns Chris works for a rival company, she feels betrayed. Can two perfect strangers trust each other enough to become the perfect family?
Very good book. Lizzie is the oldest in her family, and the one who plans everything in her life. She has one night when she wants to cut loose a little and ends up with Chris for one memorable night. A few weeks later she discovers she's pregnant and goes looking for him. She's independent and quite capable of raising the baby on her own, but figures he has the right to know. Chris hadn't forgotten her, and had hoped he would get a chance to see her again. He is stunned by the news, but adjusts rapidly.
I loved the way that Lizzie and Chris handled the news. Lizzie knew he had to be told, so she did what she had to in order to find him. Chris was surprised at the news, but after a few minutes accepted it readily. There were no accusations of entrapment or lives ruined or anything like that. That's not to say that both of them don't realize that there are going to be big changes in their lives. I loved the way that Chris made sure that Lizzie knew he planned to be involved in the baby's life.
Just as Lizzie and Chris are settling in to talk about the baby and their future, she gets word that her father has been in an accident. Now, on top of a pregnancy she's not ready to tell her family about yet, she has to take over the running of the family oil business. She's always felt she's had to work extra hard to prove herself to her father and she doesn't want to mess it up. Being pregnant adds another level of stress. Having Chris's care and support means a lot to her. I loved seeing a strong friendship develop between them, and her love for him grows quickly out of that friendship. But Lizzie also has some issues from her past that have her attempting to keep some control of her emotions. Her mother abandoned them when Lizzie was younger and Lizzie fears that her own mothering skills are not up to the job. She also had a relationship in college go bad because the man was more interested in who she was that in Lizzie herself.
Chris had taken leave from his job to spend some time on the rodeo circuit. He's not particularly happy in his work and is taking the time to try to figure out what he wants to do with his life. Lizzie's pregnancy is a huge surprise and he realizes that if he's going to be a good father he needs to get his life together. He goes back to his job, but takes a promotion that moves him closer to Lizzie. He's determined to be there for her every step of the way. I loved his sensitivity to her needs and how he seemed to be able to anticipate things. He occasionally feels like he isn't good enough for her because of their differences. I loved seeing how quickly he took to the idea of being a father and how happy he seemed to be about it. I really enjoyed watching he and Lizzie get closer together. The chemistry is definitely there, but there is so much more.
There is some trouble at the end when their insecurities create quite a misunderstanding. Lizzie gets a bit out of control there and says some terrible things to Chris. Both of them end up with some decisions to make and some soul searching to do. I loved the way it ended.
As the first in a series of six, there was a good introduction to the other members of the family. I loved their closeness and the way they support each other. They aren't too good to be true, though, and there are hints of issues yet to come. I'm looking forward to the rest.