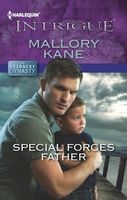 Series:
Delancey Dynasty
(Book 7)
MISSION: FATHERHOOD
Special Forces operative Travis Delancey is glad to be back from a difficult mission. But his long-awaited homecoming turns into a nightmare when he hears that his college sweetheart Kate Chalmet gave birth to his son while he was away...and the child has been kidnapped. His skills are instrumental in rescuing the boy, but his reunion with Kate is a distraction.
Kate had her reasons for not telling Travis about his son, but now she must put her doubts aside. His strength and determination to save their child makes her realize he's different from the man he was before entering the military. Perhaps Travis is ready for a family...if he can forgive her. But she cannot get ahead of herself-first they have to save their son.
Good book. Travis is back home after his latest mission and five months in captivity. He's still weak from his treatment at the hands of his captors, but he has a driving need to see Kate. Thoughts of her had kept him sane while he was a prisoner. He wants to see if there's any chance of them getting back together.
Kate is a psychiatrist and has been tasked with determining if a criminal is mentally competent to stand trial. There are those that want her to make a decision that is most beneficial to them, and to ensure she does so they have kidnapped her four year old son. Travis shows up at her door right after this has happened and it seems that fate has sent her just what she needs. But she had never told Travis about his son and now has to face that hurdle as they race to save the boy.
Kate and Travis had been college sweethearts. They were in love, but Travis had sworn never to marry. When things went bad between them, Travis joined the military. He tried getting back together with her a couple times, but Kate finally told him that she deserved more than what he was offering. She's not ready to think about getting back together with him until the crisis is over, but she can't deny that the chemistry is still there between them.
Kate can see that Travis is no longer the angry young man who had a tendency to walk away when emotions got to be too much for him. He is focused and determined and swears that nothing will stop him. Travis's training has given him the skills he needs, but he has to separate the mission from his emotions and that turns out to be very difficult.
I really liked the suspense of the story. Kate's fears for her son's safety are at the heart of her actions throughout the book. Travis's appearance and determination to help both relieve her and make her more afraid. She was told to tell no one about what happened and Travis insists on being involved. They have very different ideas on what should be done, with Kate determined to follow the kidnapper's instructions and Travis wanting to get the help that they need from the authorities. Kate is furious when he goes behind her back to involve various family members, and does something really dumb that also puts her in danger. Travis's actions both help and worsen the situation. I loved seeing the way that the family supports each other and is there to help, no matter what. The ending was intense as the rescue operation unfolded. The epilogue was fantastic and I loved seeing how Kate and Travis finally came together.