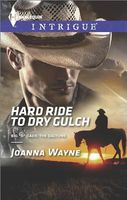 Series:
Big D Dads: The Daltons
(Book 3)
A haunting beauty with mesmerizing brown eyes is in desperate need of Dallas homicide detective Travis Dalton's help. Faith Ashburn's troubled teenage son is missing…and may be hiding secrets that could get him -- and his mother -- killed.
Faith will do whatever it takes to find her boy, even if it means turning to the rugged detective, a man shadowed by his own painful past. When the search reveals a shocking connection to the dangerous criminal Travis has sworn to bring down, Faith has to trust him with her life. And when passion flares, she has to trust him with something she vowed never again to give: her heart.
Good story with lots of drama. It's been almost a year since Faith's teenage son disappeared, but she hasn't given up trying to find him. She's gone into some dangerous situations in her search for clues, and is rescued from one of them by Travis. He is haunted by the sadness in her eyes, but doesn't see her again for months, when she shows up as a bridesmaid in his brother's wedding. When he hears her story, he has to help her.
I liked Faith's determination to find her son, but it was a little frustrating that she couldn't seem to see him as an adult. She is certain that he is in trouble. There are things that the police are telling her about him that she just can't believe. While the missing persons case is still open, she feels that they are not giving it much of an effort. When Travis offers to help, she takes him up on it.
Travis had not been able to forget his meeting with Faith. He's not entirely convinced that her son didn't leave by choice, but he's willing to help. Things get more intense when he discovers that there is reason to believe that a dangerous criminal that Travis has been investigating might be involved.
The chemistry between Travis and Faith is strong, but is held in check by their circumstances. Travis is still fighting the sense of betrayal cause by his father's abandonment of him when he was a child. He spent time in an abusive foster home because of it. His father is trying to make amends because he is dying of a brain tumor. Travis normally avoids relationships, but finds himself falling for Faith. He is also aware of the fact that nothing can come of it until her son is found. Faith does not trust easily, but she has to trust that Travis is doing everything he can to find her son. She still makes a couple of stupid moves at the beginning and is lucky that Travis is there for her. Travis's support and caring add to the feelings that are growing, but she's unable to think of moving forward until she finds her son.
I really enjoyed the suspense part of the story. It felt very realistic to me. I could easily see how a teenager could end up caught in a situation like that, and feel that he has no options. I loved following the leads along with Faith and Travis, and found myself entirely caught up in their search. The intensity increased the closer they got, and the finale was excellent.