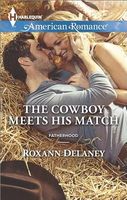 Series:
Hearts of Desperation
(Book 9)
One Big Secret…
Broke and in need of a job, barrel racer Erin Walker has returned home after years of traveling the rodeo circuit. But the only job available is working for the man who broke her heart and left her pregnant and alone. Not a day goes by that she doesn't wonder about the son she and Jake had, whether he's happy with his adoptive parents or what her life would have been like if the three of them had become a family.
Jake Canfield just wants to get close to Erin again and perhaps rekindle what they once had. But is that possible? It depends on the sudden appearance of the one person who could bring them closer together!
Very emotional story. Erin is back home while she trains a new horse and tries to earn enough money to go back on the rodeo circuit. She's surprised, and not very happy, to see Jake. He had left Desperation seventeen years earlier, swearing he'd never be back, and breaking her heart. She never told him that she was pregnant. She's surprised when he offers her a job on his ranch, but she needs the work, so she takes it.
Jake still feels bad about the way he ended things all those years ago, but he'd had his reasons. His attraction to her is as strong as ever, and he'd like to see if they can pick back up again. He loves having her working with him on the ranch. She gets along really well with the other hands and she's taken over training his newest hire, Jonah. Jonah is very inexperienced, but determined to learn everything he can about ranching.
I loved seeing the way that Jake and Erin came back together. The chemistry is still there, as though they'd never been apart. They had a lot of great shared memories, since Jake had been at his uncle's ranch every summer since he was nine, until he left at eighteen. I really enjoyed their back and forth as neither had any trouble speaking their mind. There was a new closeness developing between them that took a severe hit when Jonah revealed who he was. Jake was angry that he hadn't been told and had some harsh words for Erin, who had some right back at him. They had to work hard to overcome those feelings if they were going to get back to where they had been. There is also a fair amount of stubbornness on both their parts when it comes to their futures. Erin is still focused on going back to the rodeo, and refusing to think about a future with Jake. Meanwhile, Jake hates that Erin is going to leave, but refuses to stand in the way of her dreams. I enjoyed the way that Jake opened up to Erin and they finally confronted their issues.
I loved the character of Jonah. I enjoy seeing the older children in stories like this because they can have a more complicated storyline. I loved his determination to discover the truth, but also to pursue his desire to work on a ranch. His enthusiasm was fun to watch. I was impressed by the way he found out where to go to find Erin. He also seemed pretty mature, and I loved seeing him interact with Jake and Erin, both before and after the great reveal. One of the things I enjoyed most about this book was getting some of his point of view. Also loved his clear sight when it came to Jake and Erin's relationship and what he said to them toward the end. It was fun seeing the epilogue through his eyes.