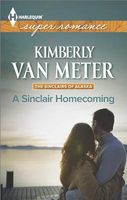 Series:
Sinclairs of Alaska
(Book 3)
Free from the past
Wade Sinclair knows you can't run from the past -- he's tried. After his beloved sister was murdered, he ran from Alaska to California only to discover there was no escape. So when a family crisis calls him back, he discovers therapist Morgan O'Hare knee-deep in their affairs. As soon as he meets Morgan, he feels as if there is brightness in the world again.
It would be inappropriate for them to get involved, yet the spark is irresistible. Wade never expected this kind of joy again. But is he really ready for this? Together, maybe they could find the strength to move on…if they're brave enough to try.
In the previous books,
That Reckless Night
and
A Real Live Hero
, the Sinclairs have been dealing with the aftereffects of the murder of their youngest sister. To compound their troubles, their mother's hoarding problem has reached a crisis level. Now it is Wade's turn to step up.
Wade hasn't been home in eight years. He left because he couldn't face the memories of his sister there, but they still haunt him. Because he hasn't been there, he doesn't believe his siblings when they tell him how bad it has gotten with their mother. When he first meets Morgan, he tells her that they don't need her, that everyone is overreacting. It isn't until he sees it for himself that he believes.
One thing that he does notice almost immediately is his attraction to Morgan. But there are two things that argue against getting involved with her. First, she is his mother's therapist and second, he's not staying around. One positive result of spending time with her is the fact that when he is with her he feels a happiness that he hasn't felt in years. I have to say that at the beginning I really wanted to smack him for being so obnoxious to his brother and sister. He deserved all the attitude he got from them. Seeing how bad it was gave him quite a wake up call. Listening to Morgan in her role as therapist also makes him see that he too has not truly dealt with his grief.
Morgan is very good at her job as a therapist and she enjoys helping people. But there are times that she feels a bit like a hypocrite, as she has some unresolved issues of her own. Her husband has been dead for three years, and no one knows how happy she is about that. He had been extremely abusive, resulting in a miscarriage for her. But because he had been well liked in their town she was sure no one would believe her if she made accusations, so she hid what was happening. Even after his death, she still has not been able to shake off its effects. Wade is the first man she has had any interest in since her husband's death and she resists that attraction at first because of being his mother's therapist.
I really enjoyed the interactions between Wade and Morgan. The invitation to join her at yoga class was fantastic and I loved seeing him there. That was the beginning of them realizing that what they had was too strong to fight. They start out with the intention of a short term relationship that quickly becomes much more to each of them. Then something from Wade's past causes both of them to have to face their demons and decide if they can find a way to be together.
The secondary story of Mrs. Sinclair's hoarding and the cause behind it has been an important part of the growth of each of the siblings. It was heartbreaking to see the way she pushed away anyone who might be able to help her deal with her grief. It really took each of them confronting their own grief before they were able to really work together to help their mother. It was interesting to see how their father also contributed to the stress. I loved seeing Wade try to reach out, then face his father with some harsh realities. The ending was excellent and felt like it could really happen that way.