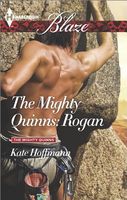 Series:
Mighty Quinns
(Book 28)
Putting the wild into wilderness…
New Zealand adventure guide Rogan Quinn doesn't deny he's a commitment-phobe. He learned long ago that there is nothing more dangerous than love. But that doesn't mean he won't indulge in pleasure where he finds it, and his newest client looks like she's badly in need of a lot of pleasure.
Psychologist Claudia Mathison has brought five of her phobia-suffering patients into the wilderness hoping for a breakthrough, not to mention a break in her career. Instead, Rogan invites her on an adventure -- and she has no doubt that the sexy Kiwi can take her higher and further than she's ever been. But Claudia has a fear of her own…that if she takes that adventure with him, she won't be able to find her way back. Or worse, she won't want to.
Very good book. Rogan's next job as an adventure guide is to take Claudia and five of her phobia patients out into the wilderness for an adventure that will test their boundaries. Through his phone conversations with her, Rogan finds Claudia to be a bit on the intense side, trying to control everything she can. Once he meets her, he'd like to help her relax in the best way he knows how.
I really liked both Rogan and Claudia and was rooting for them both to overcome their fears enough to see what they could have together. Rogan has protected his heart for many years. He saw how devastated his mother was when his father died and swore he'd never put himself or a woman through that kind of misery. That doesn't stop him from enjoying the ladies whenever he can. He's drawn to Claudia right away, but she's a lot different than the women he's usually attracted to. He finds himself telling her things he doesn't even share with his family and it really starts to worry him. He's also interested in more than just sleeping with her. I loved watching him get to know her and her quirks. I found his actions with her patients to be so sweet and his ability to see their needs was wonderful. He and Claudia made a great team.
Claudia had brought her patients on this adventure because after two years they seemed to be stalled in their efforts to overcome their phobias. She thought that the challenge might help them. She also thinks it might help her reinvigorate her own career. She has begun to doubt her abilities and this could be the boost it needs. Meeting Rogan puts her usually planned-down-to-the-minute life into a state of confusion. He has her throwing out her carefully laid plans as they adjust and adapt in order to make the best possible experience for her patients. She's also doing things on the personal side she's never done before, and it's beginning to worry her. Her psychologist brain is telling her that she can't trust feelings that are that intense so quickly, but her heart is telling her to seize the moment.
Both Rogan and Claudia have trouble facing their fears enough to share their true feelings with each other. I loved seeing the part that the five phobia patients play in opening up Claudia's eyes to what she is doing. The solution that Rogan and Claudia come up with is just what they need for them both to be happy.
There is a continuation of the story involving Rogan's father. In the last book his body has been found and plans are being made to climb Everest to retrieve it. There is a lot of media attention involved, and some questions as to what happened to cause his death. Rogan and his older brother don't agree on what should be done, with Rogan concealing some information about his father. This information could be devastating for the family. It has been eating at Rogan for a long time, but he doesn't know what to do about it. I loved seeing him take the chance on telling Claudia about his fears, even though he thought it could ruin their budding relationship. Though the issue isn't resolved in this book, progress is made. I'm looking forward to the next book to see how it ends.