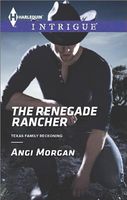 Series:
Texas Family Reckoning
(Book 2)
A TEXAS RANCHER FINDS TROUBLE ON HIS DOORSTEP IN THE FORM OF A KILLER'S BEAUTIFUL NEXT TARGET…
It's clear to Texas rancher Brian Sloane that Lindsey Cook will be a serial killer's next victim. For twenty years someone has been systematically killing off her family in "accidents," and recently her car was deliberately run off the road. The handsome cowboy is willing to be the protector the gorgeous blonde wants -- but unwilling to act on their instant attraction. Before long, the search for Lindsey's stalker leads Brian into more trouble…and right into Lindsey's arms. After one smoldering kiss, he knows there'll be no turning back. Though never one for relationships, he'll risk his life for her…and the surprising secret her family has been dying for.
We met Brian in
Navy SEAL Surrender
, as the twin brother of the hero. He had taken the blame for a fire that killed a woman so that his brother, who he thought was guilty, could follow his plans to join the navy. Though he was never charged with anything, the people of the town blamed him and treated him badly. Twelve years later he discovers that neither he nor his brother were responsible and wants to find out who is and clear his name. In the process he finds out that the woman killed is part of a family whose members have been dying in accidents. There is one person in the family left and Brian attempts to warn her of the danger. Lindsey doesn't believe him, until her car is run off the road. Then she goes to him and asks for his help.
I really liked Brian in this story. I completely understood his desire to clear his name, especially after having been treated the way he was for so long. I don't understand why his brother and father didn't fully support him in his efforts, it made me lose some of the liking I had for them from the previous book. As a paramedic, Brian is in the business of saving lives, so his attempts to warn Lindsey make complete sense. He is reluctant to become her protector at first, as he doesn't feel that he is qualified to do it. But there's something about her that won't let him leave her alone. Even though Brian has avoided relationships because of the way his life is, Lindsey really gets under his skin. He tries fighting the attraction, but it's no use.
Lindsey is a strong character. Once she accepts that Brian is right about the danger she's in, she doesn't hide in fear. She's ready to find out who it is and stop him. It doesn't take her long to realize that she can trust Brian to protect her and help her find out who is behind it. I really liked her determination and loved how her persistence gave them a good lead to follow. Lindsey was also just as attracted to Brian. She, however, didn't fight it too hard.
Their attempts to find the stalker before he could get to them was really intense. There were times when the book was told from his point of view and we could see just how dangerous he was. Just as in the previous books, Brian gets no help from law enforcement - just the opposite. This seems to play right into the stalker's hands, especially at the end. The final confrontation was one that had me glued to the pages as I waited to see how Brian was going to save the day.
The only thing that was missing for me was a little satisfaction after it was all over. I would like to have seen some sort of public acknowledgment from the town about how wrong they had been all those years. And perhaps a few months down the road to see if they saved the ranch and how everyone is doing after all the troubles are finally gone.