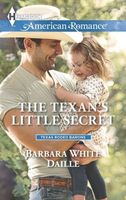 Series:
Texas Rodeo Barons
(Book 3)
Hiding The Truth
Coming home might be the worst decision Carly Baron has ever made. Each minute on her family's busy ranch is one minute closer to seeing him -- her first love -- the man who broke her heart seven years ago. While coming face-to-face with Luke Nobel again brings back painful memories, Carly quickly realizes there are other strong feelings just under the surface….
Luke would be a lot better off if Carly had stayed away. Being a single dad to an adorable two-year-old girl and managing the Roughneck is tough enough, but resisting the sparks that fly whenever he and Carly are together is near impossible. But first she must tell him her secret. The truth could heal their past…or forever destroy their chances of becoming a family.
Good story of second chances and the importance of family. Carly has come home to help take care of her dad, but she's also going to have to face Luke again. Years earlier they had parted ways when she accused him of using her to get a job on her father's ranch. Seeing him now brings back painful memories, but also the knowledge that her feelings for him never really went away.
Carly was known as the wild child in her family. Everyone saw the way she was trying new and different things, but never really settling for any one thing. What they didn't see was that it was her way of trying to figure out where she fit in her world. Being with Luke had given her that sense until it all went wrong. Now that she's back she's putting on a great show of being the tough and independent wild child, but it's still hiding a world of insecurity. She's tempted to see if there is still a chance for them, but the secret that she is hiding could ruin it all. Her fears are such that she is afraid to be around Luke's daughter.
Luke grew up on the poor side of town and worked hard for everything he got. He couldn't believe that Carly was really interested in him, especially when she wanted to keep their relationship secret. He wanted a job on her family's ranch so he could be closer to her and because it was a better job than working on cars. He was hurt when she accused him of using her, and rather than defend himself he just walked away. Years later he's got the job he wanted and is raising his little girl with the help of his mother. Having Carly back on the ranch shows him that he's never forgotten her. He really wants to see if they have a chance to get it right this time, but she keeps pushing him away. He's determined to break through her barriers and show her that they can have it all.
The search for Carly's mother is ongoing, though Carly and Savannah are the only family members who are doing it. A few more leads have come to light, and they are pursuing them as best they can. Carly's determination has her confronting her father about what he knows, and getting frustrated by his unwillingness to talk. It will be interesting to see what the other books reveal.