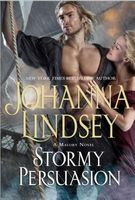 Series:
Malory
(Book 11)
James Malory sets sail for America to honor a promise he made to his in-laws: His and Georgina's daughter, Jacqueline, will have her come-out in America. Judith and Jacqueline Malory are not simply cousins; they are inseparable best friends. Refusing to miss Jacqueline's come-out in Connecticut, Judith convinces her parents to let her delay her London debut by a few weeks so she can accompany her cousin. Neither girl intends to fall in love during her first Season. But Judith's plans are overturned when aboard ship she comes face-to-face with the ghost who has been haunting her dreams.
Unknown to the Malorys, deckhand Nathan Tremayne is a smuggler with a noose around his neck. Determined to carry out a covert mission in America that could gain him a pardon, Nathan senses that beautiful Judith Malory is trouble. Somehow the minx knows his secret--and now she's blackmailing him into doing her bidding. While passions can soar on the high seas, Nathan knows this aristocratic beauty is merely amusing herself with a scoundrel like him.
When the unthinkable happens in Connecticut and the elder Malorys' hands are tied, Nathan takes command of a dire situation. Captaining his own ship, he turns the tables on Judith, as he steers them into some intense Caribbean heat where he will fight with all his mettle to win the right to her heart.
Fun return to the Malory family. Reformed rakes James and Anthony Malory must now face the fact that their daughters are old enough to be looking for husbands. Keeping an unwilling promise to his brothers-in-law, James is taking his daughter Jacqueline (Jack) to America for her come-out. Jack and her cousin Judith are best friends and Jack refuses to go without Judith being along. Being Malorys, they know how to get their way, and soon both are aboard ship, bound for Connecticut. Both intend to enjoy their first season and not fall in love.
Nathan is aboard ship, working as ship's carpenter, because it is the fastest way to America. Captured as a smuggler, he has been offered a pardon if he can find out who has been stealing British ships and reselling them. He did not expect to see Judith, who had seen him in the house next door years earlier and thought he was a ghost. He had also caught her there just a couple weeks previously, but she hadn't seen his face. Now she's using that knowledge to blackmail him into spending time with her.
I liked Nathan a lot. In spite of his previous activities as a smuggler, he seems to be a pretty honorable guy. His early childhood was pretty good, spending much of it at sea with his father. They had a falling out when he was in his twenties, and before they could repair their relationship, his father was killed. Nathan has sworn to get revenge, but it's hard to do when he's in jail for smuggling. Nathan is also the guardian of his two young nieces. His sister had married a nobleman whose family never accepted her, and when they were killed in a carriage accident the family refused to care for the girls. Nathan is determined to give them a good life, but he is very bitter against the nobility. When he's offered the chance to earn a pardon, he snaps it up. He's not happy to see Judith on board, because he doesn't need the distraction, but she is also hard to resist. Getting to know her over the course of the voyage begins to lessen his prejudice, until something happens that reinforces those feelings and drives them apart.
Judith is a little bit spoiled, but is basically a nice person. She and Jack are very close and have shared a few adventures. One of them was exploring the ruined house next door, where they had met the "ghost" when they were younger. Judith had always had a soft spot for him in her memory and when she found a man in the house again, she suspected it was the same one. She also suspected he was a smuggler, and when she found him on her uncle's ship she was ready to rat him out. She used that threat to make him spend time with her, and soon came to believe he was more than a smuggler. Her feelings for him grew, as did the attraction she felt for him. Just when things are looking promising for them, he is set up, and she jumps to the conclusion that he is guilty. I found it a little bit inconsistent that she seemed to believe the best of everyone, except when it came to Nathan, especially since she admits that she loves him.
I loved seeing James and Tony in this book and the problems they had with the idea of their daughters growing up. There was a neat scene at the beginning where they encounter Nathan, and it was fun to see him get the better of Tony. It does set up some interesting tension among the three of them as the voyage continues. That comes to a head when the jewels come up missing and things are said and done that create some hard feelings. Nathan gets a chance to get some revenge of his own when he comes to the rescue after Jack is kidnapped. I loved seeing James and some of the others on the bottom rung of that bit of fun. Judith too is dealing with Nathan's need to get some of his own back on her. There are some great instances of the perpetual back and forth between James and Tony and the Anderson brothers, but that takes a back seat when family is threatened. I love the way that, although they've mellowed a little thanks to their wives, they haven't really changed.
By the end of the book both Nathan and Judith have admitted their feelings to themselves, but still have to find their way back to each other. I enjoyed seeing their methods, and the final scene was fantastic, especially Tony's part.