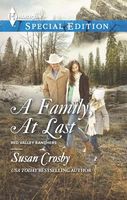 Series:
Red Valley Ranchers
(Book 2)
When Karyn Lambert appears on Vaughn Ryder's doorstep, claiming to be his little girl's aunt, he can hardly turn her away. Instead, the guarded rancher invites her to stay, and soon they're engaged in a battle of the sexes, each trying to prove how good they are with little Cassidy…as well as fighting the raging attraction that blooms the instant Karyn steps over the threshold!
For years Vaughn has been focused only on being the perfect father. Now the bubbly personal shopper has taken hold of his heart, and he wonders if they might be able to create the perfect family for Cassidy -- and each other. Not just out of blood connections -- but out of true love….
Good book, though the blurb isn't entirely accurate. Vaughn is divorced from his wife who is the mother of his little girl. His wife never took to being a mother and has left Vaughn with custody, even though he's not Cassidy's biological father. He wants to adopt Cassidy and can't find his ex-wife, so he goes looking to see if he can find the father. One possibility is Karyn's twin brother, but he died in the war. Vaughn gets a DNA sample from Karyn to see if there's a match.
Karyn is excited by the idea that Cassidy may be her brother's child. She shows up in Red Valley, planning to be there when the results come back. She plans to stay in a hotel and do some sketching while she waits. Instead, Vaughn invites her to stay at his home, telling his family that she's going to be doing Cassidy's portrait.
I really liked Vaughn. Even though Cassidy isn't his by blood, he has loved her as his own since she was born. He is a wonderful father. I loved the way he changed his entire life around so that he could take care of her. He was trying to do the right thing when he went looking for Cassidy's biological father. He didn't expect to find himself so attracted to Karyn. Vaughn is very cautious about getting involved with Karyn. His ex had been a city girl who did not adapt well when they moved to the ranch. Karyn is a personal shopper with big name clients in LA and Hollywood. He doesn't know if he wants to risk his heart again on someone who might not stay.
Karyn is a really busy personal shopper, but lately has been feeling a bit less enthusiastic about her job. It's coming up on Christmas which is a hard time for her since her brother died. When Vaughn arrives with news that her brother might be the father of Vaughn's little girl, she is thrilled with the idea. Her enthusiasm gets the best of her and she ends up staying with Vaughn while they wait for the results. She is incredibly attracted to him but feels getting involved would be a bad idea, complicating an already complicated relationship. Though his family has no idea of her possible connection to Cassidy, they draw her in to their warmth. It was terrific to see Karyn fit in so quickly. I also loved seeing how much fun she and Cassidy had together. Karyn finds herself wondering what it would be like to stay in Red Valley and get to know Vaughn even better.
I loved the relationship between Vaughn and Karyn. Both of them wanted what was best for Cassidy and were very careful not to say anything about the test around her. I really enjoyed seeing the way that the two of them teased each other. The growing feelings were easy to see and I was really rooting for them to find a way to be together. The ending had quite an interesting twist.