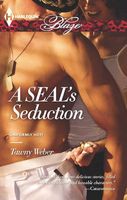 Series:
Sexy SEALs
(Book 1)
Uniformly Hot
(Book 32)
Subject: Navy SEAL Lieutenant Blake Landon
Current Status: Two weeks of enforced leave
Mission: Distract himself in any way possible
Obstacle: A woman who tempts him to break the rules…including his own!
Navy SEAL Blake Landon (aka "Boy Scout") knows the rule book inside and out. Checked. Rechecked. But when a mission ends badly, his entire team is ordered on leave. And that's when Blake sees the tall redhead whose dark eyes suggest that the rules -- especially those in bed -- are made to be broken.
Scientist Alexia Lane has sex on the brain -- partly for work, but mostly because she needs a man who makes her girly parts do the happy dance. Her only no-no? No military dudes. But Blake's rockin' bod promises delicious pleasures, and Alexia is halfway to sexual Nirvana before she can find out he's actually a Navy SEAL.
And where one rule is broken, more are sure to follow….
Good book. Blake is a SEAL who is very good at what he does. When a mission ends badly he and his team are ordered to take leave. Blake prefers to be busy, so the time with nothing to do gives him too much time to think and remember the loss of his friend. When he meets Alexia on the beach, they immediately connect. They don't exchange much in the way of personal information, but their other exchanges are smoking hot.
Alexia has come back to California for a research job. It also puts her closer to her family, including her by-the-book admiral father. They barely speak, and when they do it's usually to argue. Alexia has a mind of her own and her father's controlling attitude always rubs her wrong. She is also very big on communication, and growing up there was very little of that going on. She swears she will never get involved with a military man because of it. When she meets Blake, she doesn't know that he's a SEAL, and not just any SEAL, but one of her father's proteges. She finds out when her father tries to set them up. She's furious, thinking that Blake had purposely hidden who and what he was, and ends things right there.
Fast forward eight months. She hasn't been able to forget him, and Blake is constantly thinking about her. Then he gets tagged for a special rescue mission, only to discover that it's Alexia that has been captured by a terrorist. The rescue mission and its aftermath are eyeopeners for both of them. I loved Alexia's conversation with her mother about life as a military wife - so true. And Blake learns how the support of someone you love can make you stronger, not weaker. The ending with the dinner at her parents' house was terrific.
My only complaint with the book was the constant referring to the SEALs as soldiers. They are not. Soldiers are in the army. SEALs are sailors, first and foremost, just as Marines are Marines. Both get a bit testy when you call them soldiers.