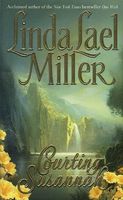 When Susannah McKittrick leaves Nantucket for the boomtown of Seattle, she is hardly looking to strike it rich; she is headed west to care for a newborn left motherless after Susannah's friend died. Although the rigorous trip depletes all of her savings, Susannah is certain she is doing the right thing. She is less sure when she meets the infant's father, wealthy businessman Aubrey Fairgrieve - who seems embittered toward love and marriage, and indifferent toward the precious baby Susannah is so eager to care for.
Gradually, Susannah discovers that Aubrey's marriage to her friend was far from perfect - and she comes to see the brusque but handsome man in a new light. But when Aubrey makes her a most practical offer, it is a far cry from the heartfelt proposal Susannah desires...If he truly wants to win her hand, he will have to learn to trust once more - and sweep her away with the bold passion of a man in love.
Very good book. Susannah had promised her friend Julia she'd look after her baby if something happened to her. When she learned of Julia's death, she left for Seattle immediately, not knowing what to expect. Julia's letters to her had changed over the course of her marriage, going from ecstatic to miserable. When she arrived, she discovered a man who had nothing good to say about love or marriage and was uninterested in anything to do with the baby.
Aubrey had begun his marriage deeply in love with Julia. But she turned out to be rather immature, selfish and vengeful. Over the months of their marriage she started behaving erratically, claiming multiple lovers, including Aubrey's brother Ethan. By the time the baby is born, Aubrey doesn't believe that he is the father and resists getting emotionally involved. When Susannah arrives she throws his life into confusion. He doesn't know if he can trust her, as she could be just like Julia. But he is also attracted to her, which he tries to fight. As he gets to know her he realizes that she is very different than Julia, and slowly begins to trust her. However, he is still unwilling to trust his heart again.
All Susannah can see at first is that Julia had been right about Aubrey. He certainly seems to be cold, and completely uncaring about the baby. It doesn't take too long before she starts to see that there is more to his attitude than she thought. The more she learns about her friend, she realizes that Aubrey may have good reason for the way he feels. She also starts to have feelings for him, which make her feel guilty, because he had been her friend's husband.
The relationship between Aubrey and Susannah is a slow growing one. There is a physical attraction, but both have much to overcome. Susannah still believes in love and wants that for herself someday. Aubrey comes to trust Susannah, but he is unwilling to open himself up to love. He wants her and believes that they would deal well together if they were to marry. When he proposes marriage, he insists that he doesn't love her. Susannah is torn. She wants his love, but she loves him so much that she hopes maybe he will come to love her anyway.
I really liked watching the changes they went through. Susannah becomes much more confident in herself, thanks to taking care of the baby and the friends that she makes. Aubrey's attentions make her feel more attractive than she ever has before. I also liked seeing her gain the confidence to stand up for herself. She pursues the things she feels are right to do, even if she knows that Aubrey won't like it. I also liked her determination to see Aubrey and his brother mend their relationship. Aubrey had more changing to do. He had to let go of the bitterness about his marriage if he was going to move on. This was difficult for him because of the things that Julia had said and done. I loved seeing the signs of the caring man he could be on those occasions when he'd relax. Aubrey's growing love for Susannah was something that others could see, but he refused to admit until a near tragedy opened his eyes.
I really enjoyed the secondary characters of Maisie and Ethan. They had well-drawn stories of their own that added to what we know about Susannah and Aubrey. I loved Maisie's blunt way of telling Susannah what she needed to know. She was also kind-hearted and a really good friend. Ethan's story was complicated. He was furious and hurt by Aubrey's accusations, but there for his brother when he was needed. His personal love story was heartbreaking to see, especially with what is disclosed at the end of the book. There is also an interesting twist that connects that love story to trouble that he and Aubrey encounter. The resolution of that mess is an interesting part of the book.