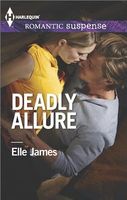 Series:
Devil's Shroud
(Book 4)
An ex-military man relies on the skills he's never forgotten…
When former special ops soldier Dave Logsdon nearly hits a beautiful motorcyclist in the thick Oregon fog, nicknamed the Devil's Shroud, he never expects to be thrown back into a world of espionage, deceit and danger. But secret agent Nicole Steele is desperate for an out-of-the-way place to hide, and Dave's run-down yacht is the perfect spot. The emotionally wounded warrior is powerless to deny her request…and his rising desire for her.
Nicole must decrypt the database she's stolen before it's too late. She soon learns the threat is bigger than she could ever imagine and U.S. national security is at stake. Will her unexpected bond with Dave survive once the enemy's identity is finally uncovered?
Fantastic book with two great leads and gripping action. It starts with Nicole, aka Tazer to her fellow agents, acquiring a database containing information about suspected arms dealers. She's discovered and pursued, but manages to get away, but not before discovering that someone is going after her fellow agents. On her own and needing somewhere to hide out, she heads for Cape Churn. After colliding with Dave in the fog, he takes her to his boat, which turns out to be a great spot to lay low.
What a beginning for these two. They had met briefly in a previous book, where Nicole had managed to rub Dave the wrong way. Now he wants nothing to do with her or her problems, but finds himself helping anyway. I loved watching these two clash. They start out really pushing each other's buttons. Dave came home from the army determined to keep to himself. He still has nightmares from the loss of a friend. He refuses to get close to anyone and suffer that kind of pain again. Nicole is focused on her job. After being betrayed by the man she loved, she no longer trusts men or her judgement about them. Dave wants nothing more than for her to get what she needs and get off his boat so he can get back to his normal life. But there's something about Nicole that gets to him and it isn't long before he wants to help her.
Nicole is a strong and independent woman, used to working on her own, but quickly finds herself glad to have Dave's help. I loved seeing the two of them find a way to work together. They discovered that they made a very good team. During their enforced proximity their attraction really took off. As much as they tried to convince themselves that it was just physical, they found themselves sharing things that they don't usually talk about. They're starting to feel things they never expected and neither knows what will happen to them when the mission ends.
The action in this story was gripping right from the start. It seemed that Nicole and Dave were barely one step ahead of trouble no matter what they did. There were quite a few twists and turns and plenty of heart pounding moments as they worked to get the information to someone who could do something about it. The ending had me riveted as they tried to reach their goal.
I also loved seeing Nicole's teammates from the previous books as they provided what backup they could. It's always great to get a follow up and see how a relationship continues to grow strong. It was also fun to see how the women made sure they didn't get shut out of the action.