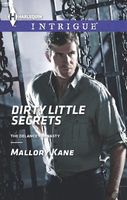 Series:
Delancey Dynasty
(Book 8)
New Orleans detective Ethan Delancey has a mission to solve a senator's murder. Putting Laney Montgomery -- the sole witness, who now has a cold-blooded killer on her heels -- under his protection? Pure instinct. Every hour pushes her deeper into danger. The only way to ensure her safety -- and capture a criminal -- is to keep her close.
Neither expects the flare of desire that pushes them over the line between professional and personal. Even as Laney's secrets start to unravel, Ethan is driven to watch over her despite the rules of his job and the threat against them. Together, they're on the verge of discovering every dirty detail of the truth…unless an unknown murderer finds them first.
Very good book. When Laney witnesses her boss's murder, it puts her in extreme danger. Ethan is one of the detectives on the case and he is determined to keep her safe, whether she likes it or not. Laney doesn't want to believe that she's in danger, since she didn't see anything that would identify the killer, but when she's run off the road she has to accept the truth.
I loved the chemistry between Ethan and Laney. They are so much alike that their conversations are a joy to read. Ethan first notices her controlled and careful answers when he questions her the night of the murder, then again the next day. He's sure that she's hiding something, and won't be content until he figures out what it is. At the same time, she fascinates him and attracts him, even though he knows getting involved with her would be a very bad idea. I loved seeing his protectiveness, even when she was unwilling to accept it. Laney is just as attracted to Ethan, but is stubborn about maintaining her independence. She is intelligent and persistent and has no qualms about doing what she thinks needs to be done, even when it puts her in danger. The growing feelings between the two of them worry them both because they're not too sure anything can come of them.
The mystery itself is a continuation of events from previous books. The senator has been a person of interest in a kidnapping, and now in blackmail. If they can figure out who he was blackmailing they might have a chance to find out who killed him. The deeper they dig into his life, the more people they find who might have the motivation to do so. Laney finds out some information that tarnishes her memories of her father, and Ethan discovers yet another disturbing thing about his grandfather. I expect his information is going to make an appearance in a later book. I enjoyed seeing them start to assemble a picture of what had happened. By the time the book was three quarters finished I had a pretty good idea of who the killer was, but there were still a couple interesting twists. Laney was a bit of an idiot to do what she did at the end, but I completely understood why she did it.