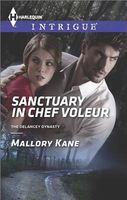 Series:
Delancey Dynasty
(Book 10)
SHE WAS A COMPLICATION P.I. MACK GRIFFIN DIDN'T NEED -- BUT A TEMPTATION HE COULDN'T RESIST.
From the moment he opens his door to her, P.I. Mack Griffin knows he's inviting trouble. Not only has Hannah Martin fled to New Orleans after witnessing a brutal murder, but the killer has kidnapped her ailing mother. Nothing but trouble, so…
Why does the sexy P.I. decide to help Hannah and keep her safe? Because watching her fight for justice while trying to stay alive demonstrates a bravery he finds nothing short of amazing. With criminals on their trail and everything to lose, Mack will be there for her as any professional investigator would. And yet winning this battle has suddenly turned into something much more personal.
Good addition to the series. When Hannah's mother is kidnapped and she witnesses the murder of the man who did it, she flees to the only person who might be able to help her. Unfortunately, she didn't know that her mom's girlhood friend had died years earlier, and ends up seeing her son instead. Mack is a private investigator who senses trouble the minute he sees her. He doesn't really want to get involved, but he can't turn away a woman in trouble.
Mack is a nice guy, but he keeps his emotions locked up. He saw his mother murdered when he was a kid, and never wants to feel that kind of loss again. He is still dealing with a lot of guilt over not being able to save his mother. He has to work very hard not to get emotionally involved in his clients' problems. From the time he met Hannah, he has not been able to keep his distance from her. He knows he's developing feelings for her, but doesn't trust himself to be what she needs.
Hannah is focused on trying to find her mother before it's too late. She'll accept his help to get out of the trouble she's in, but that's all she wants from him - until the killer tracks her down. Even then, she's not content to just sit back and be protected. Even when the bullets are flying she keeps her head so that she doesn't become a victim too. She grew up not trusting men, but Mack's determination to keep her safe has her believing in him. Hannah accepts her feelings, but has to convince Mack that love is enough for them.
The suspense was really good. The action started quickly with Hannah witnessing the murder, then fleeing from the killer who thinks she knows the location of missing drugs and money. Mack's initial skepticism then acceptance of her story is believable. There are some intense moments as they flee the killer and work on finding the missing items and catching the bad guys. There are a couple of interesting twists to the story involving a tattoo and Mack's mother, and an unexpected link between Hannah and the Delanceys.