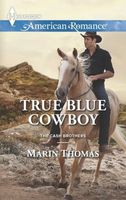 Series:
Cash Brothers
(Book 5)
He Never Expected To See Her Again!
When Mack Cash's mysterious one-night stand shows up at the dude ranch where he works, he is stunned. And just as he suspected during their night together, Beth Richards is no buckle bunny, despite the getup she was wearing. Instead, she's just the kind of woman he's looking for -- sexy, sure, but also down-home and whip-smart.
Mack's obvious attraction is just the boost Beth was looking for after a hurtful divorce. She loves the way he looks at her -- and sees her. Except for one thing. He wants a family, and Beth can only disappoint him. She's already failed at love once and she can't go through it again. That's why she has to let Mack go….
Loved it! Mack and Beth meet at a bar one night. He is there playing with his band and she has come in to "celebrate" her divorce. They are drawn to each other immediately. Beth is only looking for one night of forgetfulness and to feel desirable again, and leaves in the morning before he wakes up. They don't expect to see each other again. When she shows up at the ranch where he works, Mack is thrilled to see her again and have a chance to get to know her.
Mack was great. After years of playing in his band and enjoying the ladies, he has begun to tire of it. He's almost thirty and has seen four brothers and his sister settle down, and he would like to have what they do. Though Beth gave the impression she was just another buckle bunny that night, he now realizes that she's just the woman he was looking for. He wants to see where their attraction might go. I loved his closeness to his family and the way that they all support each other. Mack wants that same kind of life with Beth. He tried so hard to show her what they could have together. I ached for him as she continued to resist.
Beth had gone with him that night because she needed to feel like an attractive woman again. Her husband had betrayed her by sleeping with her boss and getting her pregnant. This was a double blow to Beth because of her inability to have children. Mack's attention makes her feel wonderful, but she can't give him what he wants - a family of his own. Even after he tells her of his love and that they can adopt, Beth is afraid to trust that those feelings will last. It takes a special little girl to show her that Mack has the kind of love that will last forever. Though there were times I wanted to shake Beth because of her lack of faith in herself and Mack, I could feel her pain and her fears. I couldn't stop reading until she finally opened up her heart and saw the possibilities for their future.
I loved the ending and seeing how Mack and Beth were able to make the family they both wanted. I can't wait to see them pop up in Porter's book, as I am sure they will. One of the greatest things about family series like these is being able to see the characters as their lives unfold. I really enjoyed seeing the rest of the family and how they are all doing.