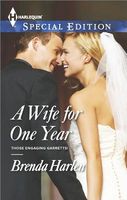 Series:
Those Engaging Garretts
(Book 5)
Marriage Agreement
Between Daniel Garrett and Kenna Scott
Stay married one year
Fool the family
No sex!
To claim his trust fund and launch a new career, Daniel needs to be married…and no one can tick all the "wifely" boxes like Kenna. And since she's his best friend, the celibacy part should be a piece of (wedding) cake! Or so Daniel thinks…until he hears the words that make him freeze: "You may kiss your bride." One official kiss has the former confirmed bachelor reeling…and one unplanned night with his virgin bride has him staggering. Will it be the end of an era for the two best friends, or will a surprise pregnancy make the two become three -- for keeps?
I love a friends to lovers story and this one was especially good. Daniel and Kenna had been best friends since high school. When Daniel needed access to his trust fund and could only get it by being married, Kenna was the one he thought of. Being friends, they figured that they wouldn't have any trouble avoiding sex with each other. What they didn't count on was the spark that was lit with "You may kiss the bride."
Over the ten years of their friendship, Daniel and Kenna have spent a lot of time together, but they've never had this much time in each other's company. Both are afraid of ruining their friendship, but their feelings are changing though neither wants to admit it. I loved getting bits of their history as each one remembers something special from their past, and how those memories contribute to the way they feel now. I also loved how, as those feelings grow, each one starts to remember previous feelings that they would bury so that their friendship wouldn't change.
Over the weeks and months after their wedding, I loved seeing how their relationship changed. When they give in to the sparks, Daniel is stunned to find out how innocent Kenna really was, and the way it makes him feel. Kenna had never been comfortable getting close to any man, but she had no problem with Daniel. She thought it was just because they were such good friends until she realized that she wanted more than what their bargain allowed. Kenna was the one who realized the truth of her feelings first, while Daniel was still resisting the idea that he's in love with Kenna. As it finally started to sink in, he panicked, especially with the idea that she might be pregnant, and said some things that made Kenna think they had no chance. Kenna was also pretty stubborn, and made some mistakes of her own while trying to protect her heart.
I loved the way that no one was surprised when they got married. Everyone around them had seen that the two of them belonged together, even when they didn't see it themselves. I loved seeing Daniel's mom explaining to him where he went wrong and how to fix it. What he did and said was really sweet. I loved the epilogue, especially race day/birth day.