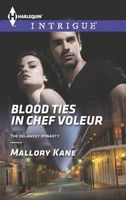 Series:
Delancey Dynasty
(Book 11)
As the newest member of the Delanceys, Jack Bush isn't who he claims. Eloping with their youngest granddaughter, Cara Lynn, is only the first part of his plan. With that he'd gain access to the entire family and expose them for what they are. Then he'd move on. Except Cara Lynn has charms of her own. Their initial attraction, and their torrid love affair, make it hard for Jack to maintain his distance. Hurting her soon becomes the last thing he wants to do. But once the truth about his ancestral blood ties are revealed, every family secret will come crashing down around them. And he fears no one will escape unscathed….
Good conclusion to the series. Jack has married Cara Lynn under false pretenses. While he is definitely attracted to her, he needs to get close to the family in order to get the information he needs. What none of them know is that he is the grandson of the man who was convicted for killing their grandfather. The man insisted on his innocence until the day he died and Jack swore he would find out the truth and prove him right. He planned to use Cara Lynn and then move on when he was done. What he didn't count on was how he would feel whenever he thought about what he was doing.
Cara Lynn is deeply in love with her husband. Their whirlwind romance and elopement was a thing of dreams, but ever since the wedding she feels like he has been pulling back. When she finds his notebook where he details what he has done and what his plans are, she is devastated. She'd like nothing more than to throw him out, but she can't bear to tell her overprotective family what a fool she's been. But his assertions, combined with some papers she has recently inherited, make them decide to find out the truth first. In order to do that they're going to have to work together.
I liked Cara Lynn a lot. As the youngest of the Delaceys and one of only two girls, she's been somewhat spoiled but also suffered from the overprotective actions of her brothers. As the youngest, she missed out on the bad stuff her older siblings suffered at the hands of their father, so she has a much more positive outlook on life. That optimism takes a big hit when she finds out the truth about Jack. I was very impressed with the way she handled it. But in spite of everything he did, her love for him hasn't died, though her trust is going to take a lot longer to earn back.
Jack has spent most of his life hating the Delanceys for what they did to his grandfather. His single minded pursuit of revenge blinded him to the feelings he had for Cara Lynn. Though I didn't like what he did, he certainly managed to meet his goals. I found it very interesting to see how he started feeling more and more guilty about it the longer he was with Cara Lynn. His inability to resist her should have given him a clue, but he was oblivious. I loved seeing how those feelings started to become clearer as the danger to her increased and he was determined to keep her safe.
I really enjoyed the suspense aspect of the story. From the moment Cara Lynn received her inheritance and was almost immediately attacked, to the final confrontation, my interest was captured. I loved seeing her and Jack try to overcome their distrust as they compared notes and tried to unravel the clues. While I wasn't completely surprised by the identity of the villain, there was a rather interesting twist to the mystery.