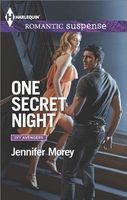 Series:
Ivy Avengers
(Book 3)
The morning after brings dangerous consequences
After stumbling into the crossfire of a black ops mission, Autumn Ivy is saved by a dark, sexy hero -- and swept away for a night to remember. Weeks later, she discovers her secret lover is soon to be a secret daddy, but what's more shocking is when Autumn tracks her mystery man right into the path of a killer.
Part of a famous Hollywood family, Autumn comes with paparazzi who threaten Raith De Matteis's hidden identity. But it's Autumn's news that puts the lone-wolf agent in jeopardy. Now more than his client is at risk. This time it's his woman…and his baby.
Good book. It starts out as Autumn is in the wrong place when Raith is trying to stop an assassin. He saves her from danger then gives her an unforgettable night before disappearing the next morning. That's not all he gave her, and a few weeks later she tracks him down to tell him he's going to become a father. Before she can tell him, she finds herself in the middle of danger yet again.
Raith hasn't been able to forget Autumn, but there's no way he can fit her into his life. She lives her life in the media spotlight and he lives his in the shadows. But he will do whatever he has to in order to keep her safe.
Both Autumn and Raith have some serious commitment issues. As part of a large, famous family, Autumn is used to the media spotlight, but she hates it. As soon as a relationship starts attracting media attention, she ends it and disappears, using her job as a translator as an excuse. As soon as she realizes she's pregnant, Autumn knows her life is going to have to change. Her question is whether Raith can be a part of it. First she has to decide if she can trust him, then to see if he can open himself up enough emotionally. She can see the potential, if she can just convince him.
Raith has spent most of his adult life alone, which is just the way he likes it. It enables him to do his private black ops work without interference. When Autumn stumbles into his life he isn't sure what to make of her. The attraction is instant and incredible and the night they spent together was unlike anything he'd experienced before. He doesn't expect her to come looking for him a few weeks later, and isn't happy when she gets caught up in his latest case. It's worse when she starts interfering in his private life. Raith's father, who had made his life miserable as a child and teen, is trying to reconnect with him. Raith doesn't want to revisit those old memories, but Autumn insists that he will regret it if he doesn't. Being around her shows him what could be possible, but Raith doesn't know if he can open himself up to the chance of being hurt all over again.
I enjoyed the story of Raith and his father as they learned to talk to each other. His father had a lot that he wanted to apologize for and try to make right. Raith wasn't so sure that he trusted that his father had changed, but he slowly started to accept that he had. I loved seeing him start to let go of the pain, thanks to her influence. It was great to see that it was advice from his father that opened his eyes to what his feelings really were. I liked Raith's father quite a lot, and have high hopes that he'll get to be around for awhile.
The suspense part of the story felt pretty mild overall. There were moments of intensity, such as the fight at the beginning and the car bomb later on. But mostly it seemed to concentrate mostly on investigation rather than action. There were several interesting twists, and the revelation of the bad guy was one I didn't see coming. Even that final confrontation wasn't as intense as I expected, but it did keep my attention as it all went down.