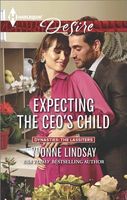 Series:
Dynasties: The Lassiters
(Book 3)
No woman says no to a Lassiter
Months after their passionate tryst, Dylan Lassiter can't get Jenna Montgomery out of his mind. Maybe being named CEO of his adoptive father's restaurant empire is making the onetime playboy think about settling down. Or maybe it's because Dylan just found out Jenna's having his baby….
When the petite florist flat-out refuses to marry him, the celebrity chef kicks his seduce/woo/wed scheme into high gear. But just as he's gaining ground, the media unearths a shocking secret from the mother-to-be's past. Now Dylan could lose the woman -- and family -- he wants more than anything….
My favorite of the series so far. Dylan and Jenna had a short but passionate encounter at his sister's rehearsal dinner, and he hasn't been able to forget about her. When business brings him back to Cheyenne he just has to see her again, and gets the surprise of his life. Jenna is pregnant with his baby and hasn't gotten around to telling him yet.
Dylan immediately wants Jenna to marry him, but she refuses. She is very independent and confident in her ability to raise her child on her own. She has no issue with Dylan being part of the baby's life, she just doesn't want to be part of his. She had a very bad experience with the media in her past and because of who he is, Dylan is frequently in the spotlight. She doesn't want that for herself.
Dylan is determined to convince her. He realizes it won't be easy and plans to take things slowly. His natural protectiveness comes out from the start and he begins by doing little things for her. He fixes meals for her (he's a chef, after all), takes her to work and picks her up, does things to help her relax. The one thing he has trouble with is getting her to talk much about her life growing up, but expects that to happen eventually. He also tries to keep his desire under control, but that's pretty much a losing battle.
Jenna starts out very determined to keep her life separate from Dylan's. She's very certain that she can raise the baby on her own, though she knows it won't be easy. She lives her life quietly, content with the security she has built for herself. She is very wary of getting involved with Dylan, but he is very good at wearing her down. She sees how much the baby means to him. She also gets a good look at his family and how close they are, and begins to think it may be possible.
I loved seeing the way that Dylan and Jenna start to care for each other. Dylan can see what her independence means to her and tries to reassure her that she can be independent and still accept help. I loved seeing him draw her into the circle of his family. Jenna starts to see that Dylan really does care for her, that he wants to be a real father to their baby. Things are going great until the night of the restaurant opening.
I couldn't believe that Dylan went from being such a great guy to such a horrible jerk. He was blindsided by what Sage told him (don't get me started on what I thought of Sage at that point), but he should have shown a little faith in the woman he claimed to love. Instead he allowed his hurt and anger full rein and said some horrible things to her. Jenna had known she should tell him, but she was afraid of his reaction so she kept putting it off. When the story came out, all her fears were realized. This was so emotional as the two had to find their way back to each other. Dylan had an interesting mix of grovelling and bossiness at the end.
There was one part where Sage and Angelica really made me made. Both seem to be trying to talk Dylan our of marrying Jenna. I can understand Angelica, because she is still dealing with the fallout from her father's will and her ex-fiance. But Sage is now happily married (see
The Black Sheep's Inheritance
) so I expected him to be a lot more supportive of his brother.