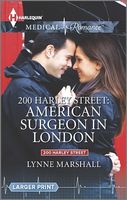 Series:
200 Harley Street
(Book 4)
Plastic surgeon Mitchell Cooper used to have it all.
But when his life collapsed, he and his little daughter Mia moved to London to rebuild their lives -- and Mitchell sealed off his damaged heart. Yet after one star-studded night with fellow surgeon Grace, Mitchell finds himself daring to live again! Only Grace is hiding painful secrets of her own…
This was a wonderful story of new beginnings. Mitch left a successful career as a Hollywood plastic surgeon to make a new life for he and his daughter. He spends most of his time either working or with Mia. It's a bit lonely, but it protects his heart from being hurt again. Grace is another plastic surgeon who has come to London, also for a new beginning. They meet one evening and start talking, going on to have an amusing time together. Nothing deep is talked about and they only exchange first names, never expecting to see each other again. To their surprise, they discover that they will be working together, Grace having just been hired to work at the Hunter Clinic. Neither is looking for a relationship, but they just can't seem to stop thinking about each other.
I really liked both Mitch and Grace. Mitch is a fantastic father. I loved seeing him with Mia and the fun they had together. While he dates occasionally, he's always conscious of the influence a woman could have on Mia. He is also still suffering somewhat from the reasons behind his divorce. He's attracted to Grace, but fights to keep their relationship strictly business. That doesn't work out too well as he frequently finds reasons for them to be together. It's a bit scary for him to see how well Grace fits into their lives as he doesn't want them hurt again.
Grace is a wonderful woman who has some physical and emotional scars. Her fiance's inability to accept her as she was has left her very wary of getting involved with another man. Her attraction to Mitch was immediate and strong but she tried to keep things to friends only. She was afraid to get too close because she didn't think she could handle another rejection.
The fears that both Mitch and Grace had felt realistic to me. I loved seeing how well they connected, the hope that they felt, but also the wariness that made each of them try to hold back. I also liked the tone of their conversations, whether they were being a little silly or talking about their work. I loved Grace's ease with Mia and seeing how that helped Mitch open himself up to the possibilities. I also loved the way that Mitch showed Grace that it was her spirit that he had fallen for, that the outside really didn't matter. I really enjoyed the ending.
Edition read: