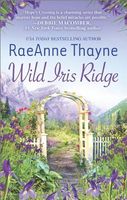 Series:
Hope's Crossing
(Book 7)
Lucy Drake and Brendan Caine have only one thing in common… .
And it's likely to tear them apart. Because it was Brendan's late wife, Jessie -- and Lucy's best friend -- who'd brought them together in the first place. And since Jessie's passing, Brendan's been distracted by his two little ones…and the memory of an explosive kiss with Lucy years before his marriage. Still, he'll steer clear of her. She's always been trouble with a capital T
Lucy couldn't wait to shed her small-town roots for the big city. But now that she's back in Hope's Crossing to take care of the Queen Anne home her late aunt has left her, she figures seeing Brendan Caine again is no big deal. After all, she'd managed to resist the handsome fire chief once before, but clearly the embers of their attraction are still smoldering…
Good reunion story. Lucy lost her high powered job and has come back to Hope's Crossing to regroup in the only place that ever felt like home. She spent several years there while growing up, becoming best friends with her cousin Jessie. She couldn't wait to leave, and isn't really looking forward to being back, especially with Jessie gone. She plans to turn her aunt's house into a bed and breakfast while she looks for a new job, and then move on. At the top of her list is avoiding Brendan whenever she can. She had an explosive kiss with him while she was in college, and was stunned when he not only blew her off, but shortly after that met and married her cousin. Ever since then, they've had a rocky relationship.
Brendan loved Jessie and has been pretty overwhelmed with taking care of his two kids in the two years since her death. He could handle Lucy's brief appearances in their lives, but having her back in town is going to be a little tougher. He's never forgotten that kiss, but the intervening years have been spent sniping at each other.
On Lucy's first night in town, she has a chimney fire at Iris House, resulting in a visit from the fire department, including Brendan. There are more sparks than just those in the chimney, but neither is going to admit it. Lucy's not planning to stay and Brendan certainly isn't going to leave. But as the days go on, they spend more time together, getting to know more about each other. Brendan discovers that Lucy is much nicer than he had thought, and her love for his kids is obvious. He begins to see that there's more to her than he had previously thought, and also sees some vulnerability under the shell she shows to the rest of the world. His feelings for her are growing, but he doesn't want to open his heart again only to have to deal with another loss. If her own problems aren't enough, Lucy's father decides to guilt her into taking care of her teenaged half sister, who has gotten herself into trouble at home.
Lucy and Brendan find their lives changing in ways they never expected. I loved seeing Lucy give her sister the kind of love and support she had never had herself. Not only did it make a difference to Crystal, I loved the way it brought out a whole new side of Lucy. I loved seeing her settle in to life in Hope's Crossing, making friends and getting involved. She'd actually consider staying, but while her feelings for Brendan are growing, she doesn't think he'll ever be ready to move on. I liked seeing her stand up for herself and her needs. Brendan was so determined to keep her away at first, but he just couldn't fight what was growing between them. But those feelings were also scary for him, because he didn't think he could take a chance on losing someone else that he loved, so he kept pushing her away. He had quite a different scare at the end, that showed him what he really needed.
It was great to see so many characters from previous books. I loved seeing Gen and her decorating business helping Lucy with Iris House, so different from what she was like in earlier books. I also had fun seeing Dylan so happy and dispensing love advice to Brendan. His dad, Dermot, has always been a great character and it was especially satisfying to see him get his own happy ending.