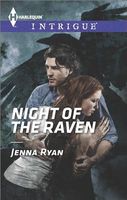 HE'D LANDED IN A TOWN STEEPED IN CURSES AND LEGENDS
Ethan McVey was in Raven's Hollow to fill in for the police chief, not get entangled in a decades-old legend. But one look into Amara Bellam's striking gray eyes -- eyes that had haunted his dreams for fifteen years -- and he was helpless to turn his back on the vulnerable beauty. He vowed to keep her safe from the killer targeting her.
Amara couldn't deny the parallel between the recent murders and her family's local lore…nor could she ignore her undeniable attraction to her dark and mysterious protector. But as the danger to her life increased, Amara questioned if the killer was truly after her for her past, or was seeking to destroy something much closer to home.
Good book, and at times really creepy. Amara is a doctor who witnessed a murder in New Orleans, and now finds herself a target for revenge. When two other witnesses end up dead, Amara is encouraged to find somewhere to hide out for awhile. She goes home to Raven's Hollow, Maine, just in time for the local raven festival. When she lets herself into her grandmother's house, she's forcibly introduced to Ethan, the police chief who is renting the place.
Ethan is filling in as police chief for the Hollow, while the man is on his honeymoon, at the same time he's doing his own job as police chief for Raven's Cove. Life is interesting as he tries to keep the peace between the Bellams and the Blumes. Having a beautiful woman break into his house just seems par for the course, until he gets a good look at the eyes that have been in his dreams for years. Learning why she's there just boosts his protective instincts.
The sparks between Amara and Ethan are hot from the beginning. There's an attraction between them that they can't and don't deny. But their main focus has to be on staying alive and catching the killer who is after her. The action in this book is almost non-stop with plenty of twists and turns that kept me guessing. There are bodies piling up whose deaths don't match the MO of the hitman who is after Amara, leading them to think that there may be two killers after Amara. The question is who and why? The identity of the hitman had a most interesting twist to it, but made a lot of sense once it was revealed. I didn't figure out the second one until right before it was revealed, as there were a couple possibilities that kept me flipping back and forth.
I liked the heat between Amara and Ethan, but also that there was more to the relationship. Ethan has the whole protective thing going on, but he also respects Amara's strength and intelligence. Amara gets frustrated by that protectiveness at times, but she knows that he's good at what he does. They have great conversations, not just about their own pasts, but also about the towns and the legends that go along with them. The dreams that Ethan has are really spooky, and it's interesting to see how they match up with the history of the area. I loved the wrap up of the last chapter.
Once again there are some wonderfully quirky characters in the book. I think my favorites were Brigham and the other raven tamers. They have their own way of doing things, but are there for Ethan and Amara when they need help. Loved the part the ravens played in the scene at the bridge.