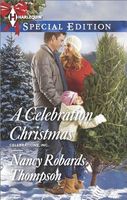 Series:
Celebrations Inc
(Book 7)
THE GREATEST GIFT OF ALL
Lily Palmer is in for the Christmas of a lifetime! When the nanny signs up to watch Dr. Cullen Dunlevy's four foster kids, she's got her hands full. The Thomas clan is the most mischievous group of youngsters she's ever had to wrangle, but Lily loves the job. After all, what girl wouldn't adore spending the holidays with a warmhearted new family -- and their irresistibly handsome foster dad?
Cullen doesn't mind Christmas, but his Scrooge-like facade is there for a reason -- to protect himself. His tough childhood caused him to hide behind his work and avoid entanglements at all costs. That includes avoiding falling for the deliciously tempting new nanny that Santa left for him this year…
Good book. Cullen desperately needs a nanny to ride herd on his four foster kids. They are pretty wild and have succeeded in driving away his housekeeper, leaving him with no help. Enter Lily, a second grade teacher looking to pick up some extra income while school is out for the holidays. She has a handle on things immediately, leaving Cullen very impressed and noticing a lot more than Lily's nanny skills.
Lily has noticed Cullen too. She finds him incredibly attractive, but she's not in the market for a man right now. Her engagement had recently come to a rather spectacular end, leaving her unsure of herself when it comes to relationships. But the more time she spends with Cullen and the kids, the more things start to feel like a real family. She's afraid to start believing in a future because Cullen has a reputation for avoiding commitment. She can see him holding back with the kids and wonders if he'll ever be able to open his heart all the way.
Cullen took custody of the four kids when their parents died. Their father had been his best friend and he had promised to be there if he was needed. He doesn't feel qualified to keep them, so he is trying to find a family that will adopt all four of them, not an easy task. He had had a rough childhood and fears being too much like his father to ever be a husband or father. When Lily comes to work for him and take care of the kids, he is immediately drawn to her. She's nothing like the women he usually dates, but he finds it increasingly easy to come home to Lily and the kids. She brings out thoughts of home and family that he's never had before, but he's still not convinced he has it in him to go the distance.
I really liked seeing the emotional growth that occurred with Cullen. He was so closed off and almost afraid of the kids at the beginning. Lily's influence showed him that he could have a different life if he had the courage to go after it. I loved seeing him loosen up when they went Christmas tree shopping and start to get more involved with the kids and what they were doing. He really stepped up with George after the basketball game, even though he wasn't sure he knew what he was doing. He also had the courage to tell Lily that he loved her, but had to face his fears or risk losing her over their different expectations. I loved his big moment at the end, when he finally learned what was really important.
I really enjoyed the kids in this family. None of them were perfect little angels, but neither were they monsters. I loved the oldest girl's bossiness as she tried to be the mother to her siblings. George was great as the only boy, having to deal both with his losses and being outnumbered. I loved seeing them lose their fears thanks to Lily. I loved their bit with the mistletoe while they were tree shopping.