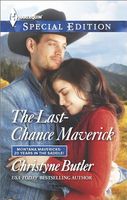 Series:
Montana Mavericks: 20 Years in the Saddle
(Book 4)
THE ART OF FALLING IN LOVE
RUST CREEK RAMBLINGS
Fellow Ramblers, have you heard that Jonah Dalton is back in town? The sexy, citified architect hasn't been seen round these parts since…well, we won't get into all that. Let's just say love has not been kind to our Jonah.
But our sources whisper he's recently been painting the town red with spirited artist Vanessa Brent. She's been methodically working her way through her bucket list -- and taking Jonah along for the ride. You'd never guess that Vanessa's lust for life is masking her own heartbreaking secret. Can our hardworking maverick be the one to finally make her whole? Readers, we will let you draw your own conclusions -- but we think this romance is a masterpiece in the making!
Excellent and emotional story of two wounded souls. Jonah has returned to Rust Creek Falls for an extended stay after eight years away. He left because of the bad memories caused by the end of his marriage and has made only short visits home since then. He has made quite a name for himself as an architect and has the job of designing the new resort being built in town. Now that it's almost done, he is here to take care of any last minute problems that come up. He's not real happy to discover that not only has Vanessa been hired to paint a mural in the new resort, she is also living in his cabin. He's ready to kick her out, but something about her makes him change his mind.
Vanessa came to Rust Creek Falls to try to recover from a devastating loss that has affected her ability to paint. She is spending her time teaching art to children and working her way through her bucket list, a list she shared with her best friend. When she meets Jonah there is a spark that she hasn't felt for a long time.
I loved the chemistry between Jonah and Vanessa. It's obvious right from the beginning that there is something special between them, but both are holding back. It was great fun to see Vanessa pull Jonah out of the shell he had been in since his divorce. I especially liked their first date when she sucked him into trying zip-lining. The more time they spent together the better they started to understand each other. I loved seeing Jonah help Vanessa see that her art wasn't gone, it was simply changing. His way of helping her was so sweet and romantic, and just added to the connection that was building between them.
One if their problems was that they had started their relationship as a temporary thing. Jonah has every intention of returning to Denver and Vanessa isn't planning to leave Rust Creek Falls. They are also trying to protect their hearts. Jonah feels that he had his one chance at love and blew it, and doesn't deserve another shot. Vanessa is suffering from survivor's guilt. She is torn up over the fact that she is still alive and doing all the things that her friend wanted to do. She is afraid to take a chance on the future because she knows that it can end so easily. Both of them have to let go of the past before they can see their future together. The scene at the end was so emotional for Vanessa, but also freeing. I was so happy to see Jonah share it with her.